Gaming keyboards with macro keys are a feature that allows you to execute complex commands with ease, which can help you out in tight situations or boost your performance in longer battles.
Plus, who doesn't love being able to step up their game by executing complex macros on the fly? Whether you're a seasoned gamer looking for an edge or a beginner just starting out, a gaming keyboard with macro keys is definitely worth considering. 
So, in this article, we have discussed the benefits, types, and some of the best options available in the market. 
So, let's start with knowing what these keyboards have to offer: 
What do they Offer?
A gaming keyboard with macro keys can offer some advantages over a standard keyboard. For one, it can make it easier to take quick actions in a game, such as pressing the key multiple times to cast a spell. Additionally, macros can be used to automate repetitive tasks in games, such as reloading your weapon or gathering resources. Plus, they come in all different shapes and sizes, so there's sure to be one that suits your needs.
What are the Different Types?
There are a few different types of gaming keyboards with macro keys: 
1. Standard keyboard:
The most common type. This type has normal keys as well as macro keys. You can use these keys to execute simple commands or macros, but they're not as versatile as gaming keyboards with macro keys that have additional features.
2. Ergonomic keyboard:
These keyboards were designed specifically for gamers and offer a better grip and feel than standard keyboards. They also come with extra macro buttons to make programming macros easier.
3. Wireless keyboard:
These keyboards don't need any wires to connect them to your computer, which makes them great for traveling or when you want to avoid cords messes. They also have more features than standard keyboards, so if you're looking for a specialized tool, a wireless gaming keyboard is likely the best option for you.
So, Which One is Right For You?
Before you buy a gaming keyboard with macro keys, it's important to decide what your needs are. Do you just need basic macros abilities? Or do you want a more versatile keyboard that can also be used for everyday tasks? If you just need basic macros abilities, a standard keyboard will work just fine. If you're looking for a more versatile keyboard that can also be used for everyday tasks, an ergonomic or wireless gaming keyboard may be the best option for you.
However, we have listed some best gaming keyboards with macro keys for you: 
Best gaming keyboards with macro keys 
1. Corsair K55 RGB 
This keyboard features 6 dedicated macro keys. You can use the Corsair iCUE software to configure these macro keys and use them to execute complex actions or trigger pre-programmed sequences. For these macro keys, you can activate keypresses, shortcuts, or function keys. 
You can also customize the 5 RGB lighting Zones in Corsair K55 RGB, according to your preference.
The keyboard features a dust and spill-resistant design and comes with a soft rubber palm rest to make it comfortable to use. It also has dedicated volume and media keys, so you can easily control your audio and video playback without having to take your hands off the keyboard.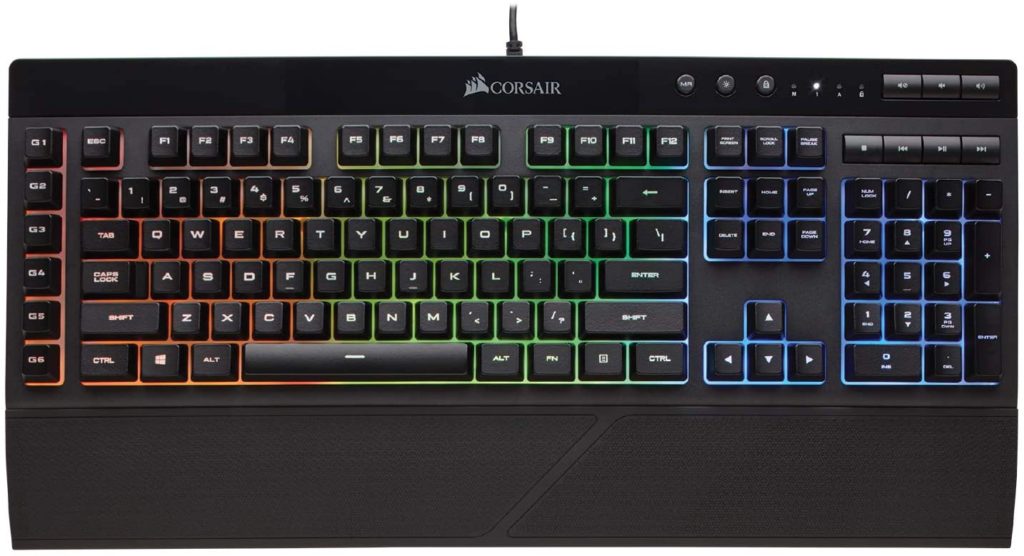 Related: Top 4 Best Keyboards with Volume Control
2. Logitech G915 
Logitech's G915 is the best gaming keyboard. It is a full-size keyboard that has great quality and cool design, with a low profile that makes it very ergonomic. Its build quality is also commendable, with a body that is made of solid plastic and top panels of aluminum.
The Logitech G915 has 12 programmable macro keys that give you the ability to execute complex commands without having to Alt+Tab out of your game or application. 
This keyboard features Romer-G switches, which are designed to provide faster response times and more accurate key presses. Additionally, the G915 has a 10-key Numeric keypad that makes it easy to enter numbers quickly and accurately.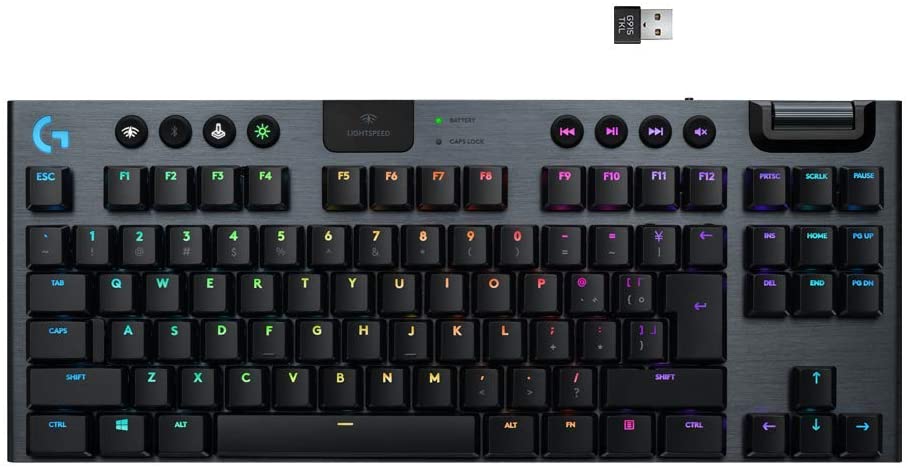 3. Redragon K588 RGB 
One of the best tkl keyboard options with macro keys. Redragon K588 RGB has a total of 9 macro keys with 4 being located just above the F1 & F4 keys and the rest 5 is located on the left side. You can use Redragon's default software to reprogram all the macro keys. 
This keyboard has a TKL layout with a very cool design and good build quality with a plastic-made body that is both considerably solid and thick. It has ABS plastic-made OEM profile keycaps which let you have a good grip on your fingers. 
This keyboard also features RGB backlighting which is quite cool, then it also has removable wrist rest, media keys, volume wheels, and not to forget nine macro keys that are reprogrammable. 
4. Corsair K100 RGB 
The Corsair K100 RGB is an excellent choice for players as it features a high-quality build, great performance, and lots of customization options.
Corsair has recently released a new line of optical-mechanical switches called Corsair Optical. These switches use infrared light to register actuation, eliminating the need for physical contact. This allows a fast polling rate and key scanning that allows for faster keypress registers and quick resets.
The 1.0mm actuation distance and linear keys on this keyboard make it an excellent choice for gaming or working.
Finally, it has an iCUE control wheel and 6 macro keys, giving you the power to access a plethora of functions.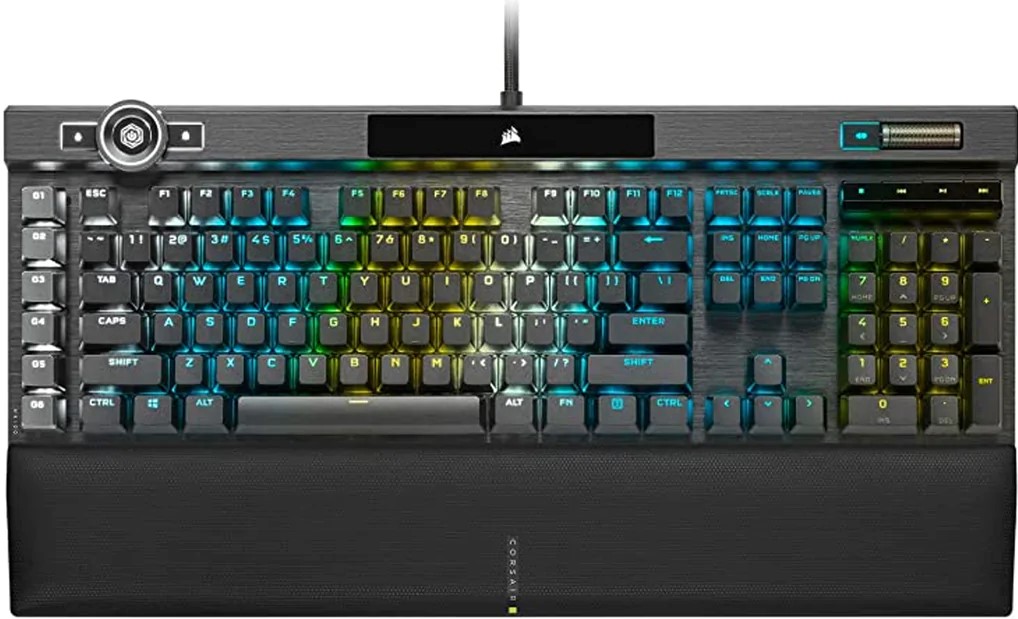 Conclusion
To conclude, a gaming keyboard with macro keys is a great tool for gamers. So, If you are looking for an edge in your gaming, then consider getting one. We have listed some of the best ones so that it's easier for you to find the one that suits your needs!