It is nice to have a keyboard that is 65% and supports hot-swappable switches. So, without soldering them, you have the flexibility to easily replace the switches of your keyboard. And the size of the keyboard gives you a keyboard that is ultra-compact and comfortable to type on. 
So, in this article, we will talk about some of the best 65 hot-swappable keyboards available and help you decide among them by giving a thorough description of each. 
So, let's start!
1.  Drop ALT 
Among the many 65 hot-swappable keyboards, Drop ALT (mechanical keyboard) is one of them. The keyboard has a cool design, high-quality construction, and features quality components. The keyboard's body is made up of thick plastic, reinforced with a metal frame for stability.
Good quality OEM profile keycaps are used in Drop ALT,  these keycaps are made of PBT plastic, which is known for being both thick and solid, guaranteeing durability. Also, this model uses Cherry MX switches which again are known for their quality.
The keyboard supports hot-swapping features that allow for the replacement of switches on the Drop ALT key. This flexibility will help maintain compatibility with future changes to the Drop ALT. Moreover, this keyboard is compatible with Windows, Mac OS, and Linux operating systems.
This 65% hot swappable keyboard is definitely worth having but note that it is also heavy on the pockets.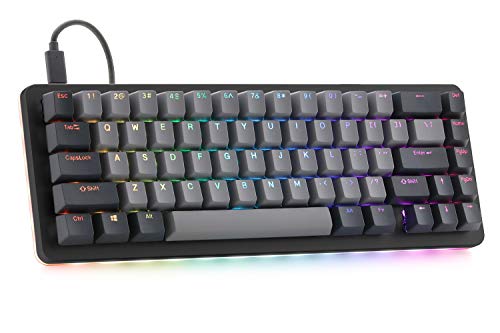 2. Keychron K6 65% Mechanical Keyboard
The K6 is a smaller, 65% layout keyboard that is very similar to the Keychron K2. It is a great option for users who want a smaller keyboard without giving up on functionality. 
The K6 is a keyboard that is not only affordable, with hot-swappable switches but also has a lot of other great features. It has all of the standard function keys as well as media control and navigation buttons. Moreover, it has an aluminum bezel, RGB, and wireless connection, and is compatible with both Mac and Windows. 
For this keyboard, swapping keyboard switches is easier than ever, requiring only a switch puller to remove the old switches and press in the new ones. It has a variety of switch types including standard Gateron ones, Gateron hot-swappable ones, and LK optical. It comes in blue, red, and brown colors. 
So, you can choose the switch according to the feel you want to have, may it be clicky, silent, or linear. 
Also, this keyboard comes at a good price hence highly recommended! 

3. Ducky one – 3 daybreak SF 
This 65% keyboard is a great choice if you want a keyboard that is swappable and sold at a reasonable price. It can use switches that have three or four pins. This keyboard is a very attractive, well-built keyboard.
It also uses solid PBT plastic made OEM profile keycaps, which as mentioned earlier, are sure to have excellent durability and are great for typing or playing games. With the switch option, you can choose from Cherry MX. However, while the compatibility of this keyboard extends to different operating systems like Linux, Windows, and Mac OS, its connectivity is only supported via a detachable USB that has a type C cable. 
But, not to forget, this keyboard has very cool RGB features, that are bright, and has a variety of animation options. To change the colors of your keyboard's RGB LEDs, you can use software from Ducky.
Overall, it is an interesting 65 hot-swappable keyboard option coming from a brand that is well recognized for its quality products. 

4. Epomaker NT68
The Epomaker NT68 is a 65 hot-swappable keyboard that offers users a variety of options when it comes to typing.
This keyboard has a number of features that make it great for use in both personal and professional environments. Some of the key features of the Epomaker NT68 include its size, which makes it ideal for those who need plenty of space to type without having to move their hands from one key to the next; a backlight that allows users to see their keys in even the darkest conditions; a detachable cable, which means that users can easily switch between wired and wireless connections; and support for Windows 10, 8.1 and 8.
In terms of connectivity, the Epomaker NT68 supports complete options. You can use the option of Bluetooth 5.1 wireless connectivity or use a type C detachable USB which makes it compatible with different operating systems like Linux, iOS, Android, Mac OS, and Windows. 
All these features make it worth having.

5. Meko Push white 
The Meko Push White 65% RGB is a great keyboard for anyone looking for a 65% keyboard that is both hot-swappable and has a variety of backlighting options. The keyboard has an ultra-thin design that makes it easy to transport and use, and the backlighting options allow you to customize the look of your keyboard depending on what you are working on.
Additionally, the Meko Push White 65% RGB has onboard profiles so you can easily switch between different settings without having to re-install your software.
This hot-swappable keyboard can use switches with 3 pins. When buying, you can choose from Kailh Box, Cherry MX, and Gateron switches. Moreover, it has a great design and is built with a very strong build quality made of ABS plastic. 
The Meko Push White 65% RGB keyboard has wireless connectivity options via Bluetooth and a USB Type C cable that is detachable, which means that it can be used on devices with different operating systems.
Overall, it is a great affordable option in 65% ​​hot-swappable keyboards. 

Conclusion
Among many available out there, we have mentioned and described the top 5 best hot-swappable keyboards available in the market. You can see they all have different features and benefits, so choose the one that best suits your needs.
If 65% keyboard is not your thing don't worry we have got you covered as well. Here is a list of the Best 60 Percent Mechanical Keyboards. See if you can find the keyboard you are looking for