If you are a writer then the keyboard is a component that you can't overlook when putting together a computer system. If you are looking for the best keyboards for writing purposes you are in the right place because below, I have a well-rounded guide on how to go about different features and specifications of different keyboards to find the one that suits your purpose perfectly. And I'm positive you will leave this guide with a newfound love for keyboards.
From the several keyboards we have tested, the ones below have made the cut based on performance, features, specifications, price point, and their general feel. There is a basic pros and cons list at the end of every product review that will help you with comparison, which in turn will solidify your final choice.

1. FILCO Majestouch Ninja (Cherry MX Brown) Keyboard
Front printed keys
Cherry MX Brown Switch
Matte black look
Comes with a Software.
This user-friendly, smooth-performing keyboard is the first on our list of the best keyboards for writers. Its sleek, matte design gives it a very cool visual that can go along with any theme you have in mind for your computer rig. 
Price Range:
The FILCO Majestouch Ninja (Cherry MX Brown) Keyboard retails at a very affordable medium-level price, followed by a performance that surely gives its high-level counterparts a run for their money. This keyboard has a vast set of compatibility features and can be used by professionals of all types. Particularly writers that are very keen on smooth performance.
Specifications and Features:
This keyboard's smooth experience can be credited to its long keystrokes. The keystrokes are about 4mm making the contact point between 2, 2mm. 
The keyboard comes with a Cherry MX Brown Switch, which has a very soft click, making the typing experience satisfying, fast, and stress-free. These brown switches don't make a sound! The whole thing works wonders to be very honest. 
The soldered holes allow less vibration and less movement when typing, adding to the performance and rate of response immensely. Its N-key rollover allows all of the keys to be individually recognized, even when the user is pressing several keys at the same time (a feature that could prove extra useful for writers). 
This keyboard does come with its software. The software allows a higher rate of data transmission which also builds up its performance. 
As far as the appearance and physical feel of the keyboard is concerned, it does an incredible job at giving a clean yet firm look. The front printing not only helps the keyboard look sleek, but also prevents the printing from fading due to excessive use.  
If I had to nitpick a con for this keyboard, it's the fact that it comes with barely any customizable features. It is as simple as it looks. Although that does not necessarily reduce its overall experience, it is a little disappointing for keyboard fanatics. 
Pros:
Durable key design
Smooth keystrokes
Clean design 
Light and natural 
Cons:
Does not have many features.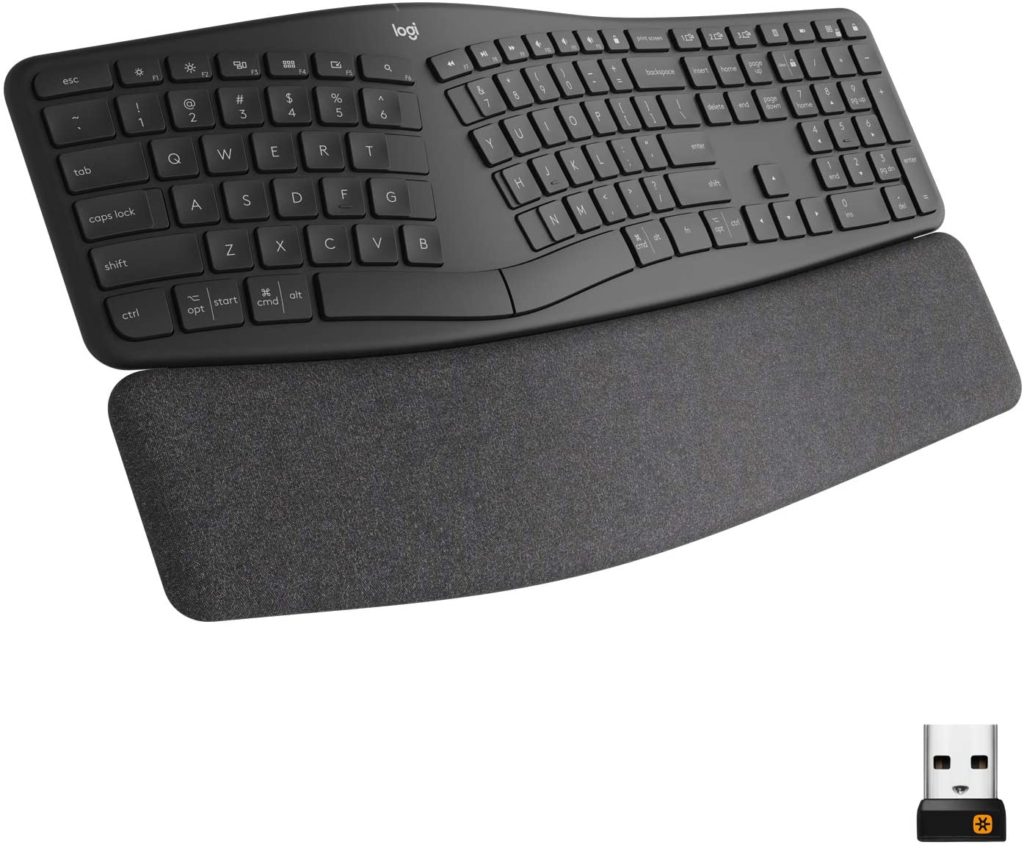 Related: Top 6 Gaming Keyboards for Gaming and Typing
2. Logitech Ergo K860 Wireless Ergonomic Keyboard with Wrist Rest
Better Typing Experience
Easy and Simple Connectivity
Comfortable Wrist Rest
Precise Stroke Keys
I am pretty sure the name already suggests the vast possibilities you are going to experience with this second keyboard on our list. Its ergonomic design and its precise keystrokes result in complete accuracy and speed. All the while, keeping your comfort in consideration. 
Price Range:
This keyboard, being specifically focused on the comfort of the user (which makes me think it's specifically designed for writers), is going to be an investment with its very affordable entry to mid-level price range.  In addition, it also has a wide range of features including its software that helps with some rich customizations. 
Specifications and Features:
The keyboard comes with Bluetooth and a USB connection. You can use it wirelessly or wired; whatever you feel more comfortable with (Logitech wasn't kidding when they called this keyboard ergonomic). The Bluetooth connection has a range of up to 10 meters. and can be connected to up to 3 devices.
Bluetooth keyboards always give rise to the question of their battery life. The K860 has been advertised to have a battery life of 24 months with the included batteries. So be at ease, it will go on for a pretty long time. 
This keyboard is full-sized with a split design, it comes with an integrated numeric keypad. Its full-sized design measures at dimensions of a whopping 9.17″ x 17.95″ x 1.89″. Which is very large, to say the least. 
The split design allows the user more space to type freely without having to contort their fingers and arms in awkward, unnatural positions. 
The keys have this matte texture to them, which makes your fingers glide easily over, which helps with accurate and quick typing. Let us not forget the soft, cushioned armrest that brings the ergonomic design of the keyboard to a full circle. 
Pros:
Lives up to its ergonomic advertised design.
Fast, smooth strokes with little to no resistance
Wide connectivity range 
Cons:
Takes up a lot of space due to its large size.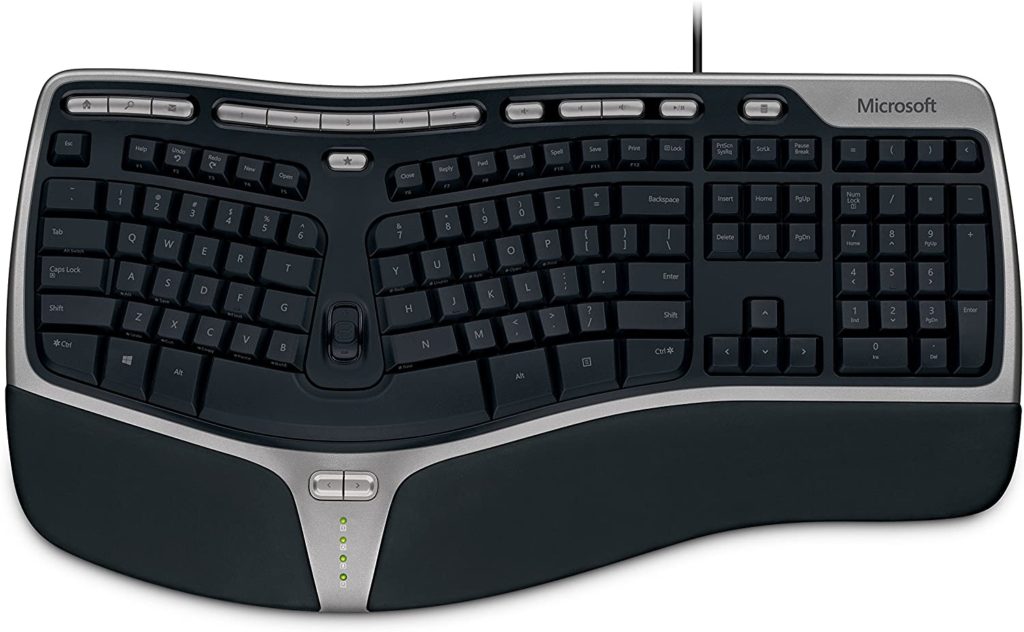 3. Microsoft Natural Ergonomic Keyboard 4000 for Business
Ergonomic keyboard design
Split keys
Customizable hotkeys
Cushioned Wrist Rest
The third keyboard on our list is a user-friendly, price-friendly and comfort-friendly as well. With its all-rounded specs and features, and very long life, it is easily one of my favorites on this list. 
Price Range:
Inexpensive, entry-level keyboards don't have much to offer when it comes to diverse specifications and extra features. You cannot say the same for this keyboard though. It is inexpensive but it does not fall short in any aspect and is easily comparable to all relatively expensive keyboards on this list.
Specifications and Features:
There is so much to cover with this keyboard. Let's start with its very carefully crafted ergonomic design: Just like the previous keyboard, this one also comes with split keys, and a slightly upper slant, giving your wrists a much-relaxed posture. Your fingers are also getting a break from weird angles because of the split keys. The design minimizes unnatural movements, which results in a faster and snappier typing style. Furthermore, its cushioned wrist rests allow more room for comfort. Not that it was lacking any in the first place.
On the top of the keyboard, there is a row of buttons that you can use instead of hotkeys. You can use these buttons to perform basic hotkey tasks such as opening a document or browser, replying to email, and/ or media playback. Even the function keys are different, they have a lock feature and can perform dual tasks. 
The keyboard, just like the one before, is large. With a size dimension of 19.8″ x 10.3″ x 3.26″, it takes up a lot of desk space. Which has been labeled as an inconvenience for some users in some cases.
Pros:
Ergonomic design for max comfort
Split keys
Customizable hotkeys
Lockable F keys
Cons:
Large size can be hard to manage.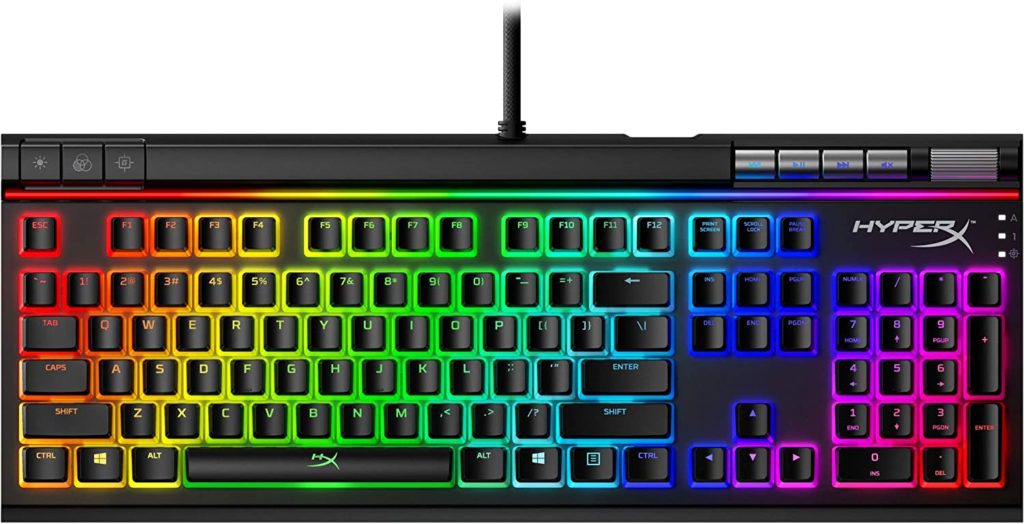 4. HyperX Alloy Elite 2 – Mechanical Keyboard
Pudding Keycaps
HyperX red mechanical switches
HyperX signature light bar
RGB lights
HyperX NGENUITY software
This bright, sleek-looking keyboard has me impressed. Not only has HyperX focused on the style and aesthetic, but they have also worked hard on making their red switch keys. And when I tell you that these keys work, I mean it! 
Price Range:
The HyperX Alloy Elite 2 is another very mid-level keyboard on our hands. With its definitive set of features and its increase in performance due to the indigenous red mechanical keys, the medium-range price point is defiantly reasonable. In fact, there has been a slight decrease in price if compared to this keyboard's predecessor; the Elite Alloy RGB. 
Specifications and Features:
Customer reviews show that this keyboard has been a top contender in- prepare to be surprised- being comfortable. Yes, the HyperX Alloy Elite 2 has been deemed very comfortable with its butter-like strokes, perfectly balanced pressure, and quick response time. its ABS "pudding" keycaps add to the butter-like experience. 
The red mechanical switches that are original switches made by HyperX have a shorter actuation distance (of 1.8mm) and a total travel distance of 3.8mm. The response time is shorter than the other keyboards on this list. 
The alloy elite is compatible with HyperX's NGENUITY software. With allows you to customize the lights, bind the keys according to your requirements, even make different profiles. The software allows the user to have maximum control of the keyboard.
Now that we're done with the nerdy stuff, let's get to the exciting bit. The design! This beautiful specimen has a solid steel frame, with translucent keycaps for the RGB lighting. Even the letters are backlit!
Pros:
Shorter actuation distance
Sleek, bright design
Light, breezy strokes
Cons: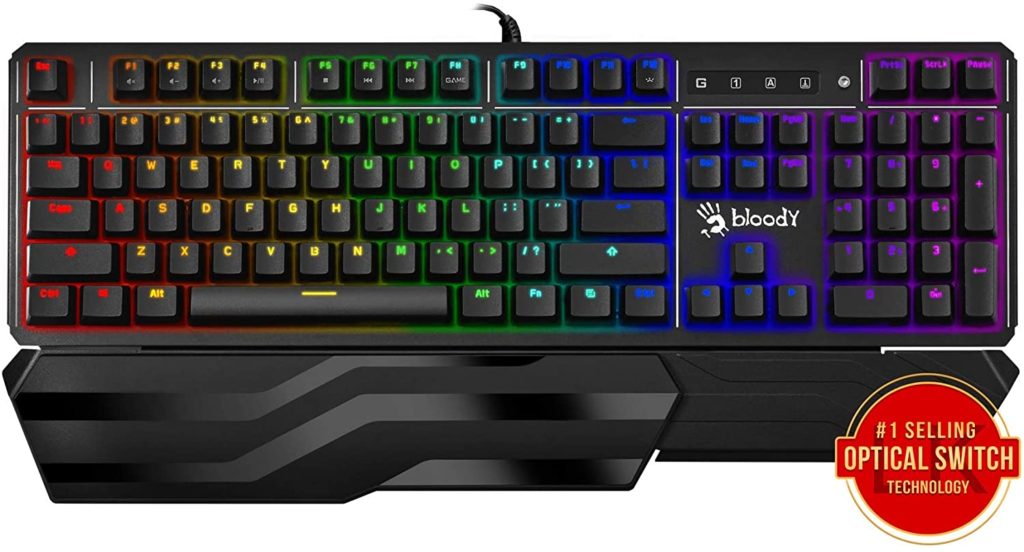 5. Bloody Gaming B975 Light Strike Optical Computer Keyboard
LK Libra Orange Switches
Ergonomic Design
Sturdy build
Customizable RGB 
I have noticed a pattern in the previous keyboards in this guide, you either get an ergonomic design, or you get an aesthetically pleasing keyboard. What if I told you the Bloody B975 would give you the best of both worlds? Keep on reading to see why.
Price Range:
Like most of the other keyboards in our list, the B795 is also another mid-level one. With its very bold aesthetic and wrist rest, it does its job of catching the buyer's eyes. 
Specifications and Features:
Bloody is famous for using optical switches called the LK Libras in their keyboards. That is why the B795 also has the LK Libra Orange switches instead of mechanical ones. These optical switches have an advantage over mechanical switches. They are much more long-lasting. But why is that? Because instead of metals, these optical switches use light for their operation. No mechanical parts, no wear, and tear. 
These switches are also slightly faster than mechanical ones, so performance-wise this keyboard is on top of its game. 
With its total travel distance of 3.5mm and an actuation distance of 1.5mm, this keyboard is FAST! 
The overall aesthetic of the keyboard is very bold, the keys are backlit, the RGB lights come in 6 different lighting effects and are fully customizable. However, the lettering on the other hand is slightly smudged out, and some keys are not very legible. 
The keyboard is also advertised as an ergonomic design because of the detachable wrist rest it comes with.
Pros:
Optical switches that enhance speed
Customizable RGB lights
Long-lasting
Cons:
Smudged lettering on the keys

6. Ajazz AK510 Retro Mechanical Keyboard
Retro Mechanical color theme
RGB LED backlights
Custom Brown Switches
PBT Keys
If you are a fan of the vintage, retro aesthetic, the Ajazz AK510 may be the keyboard for you. With its brown mechanical switches and its very powerful typing experience, this keyboard is another one on our list of best keyboards for writers.
Price range:
Like the Microsoft keyboard 4000, this keyboard is also an entry-level one. Despite that, it does not disappoint with its performance at all. The beautiful retro look with RGB lights is just a bonus. 
Specifications and Features:
This keyboard uses custom brown switches (similar to the Cherry MX Brown switches), with a little more durability. They last longer, have a similar smooth feel and are great for writers in the long run. 
The AK510 also comes with the N-Key rollover that helps in quick, error-free typing. The keycaps are made of 90% PBT, which prevents fading of the printing and gives the keys an elegant, matte look. 
My favorite feature is the overall look of the keyboard. Its antique look beside its RGB LED lights is a win-win situation. Each key is individually customizable and the range of colors offered to the RGB lights is, very diverse, to put it simply (16.8 million colors are advertised).  The bulkiness of the keyboard also adds to its retro, vintage look. Although it might not be a positive asset for many of its users.
Pros:
Aesthetically pleasing
Has a great price to performance ratio
Tough and sturdy.
Cons:
Not as fast as the other keyboards in this list
Is slightly bulkier.

7. Keychron K2 Wireless Bluetooth/USB Wired Mechanical Keyboard
Wireless and Wired connections
18 RGB Backlight colors
Three Gateron Switch options (blue, red, brown)
Compact and Small
Closing off the list with a bang with this small, yet very powerful Keychron K2 mechanical keyboard. It is going to check all of your boxes, and more.
Price Range:
The Keychron K2 is our third affordable, entry-level keyboard. Your first impression may be a little harsh, considering its simple, compact look. But its use is as smooth and fast as the other keyboards in this list. So you're getting your money's worth and so much more
Specifications and Features:
Right off the bat, the catchy part about this keyboard is its mechanical switch options. You have three options to choose from: red, blue, and brown. As a writer, the blue one is what I suggest because of its click feature. But the red and brown are just as good if not better. 
Its compact design comes with customizable RGB lights that give it a very stylish, modern look. The RGB lights have 18 types and come in different styles that you can change based on your mood. 
The keyboard comes with wired and wireless modes and can connect with 3 devices at a time (when on wireless mode). The keycaps have both Windows key and mac key printings on them. They cater to both macOS and Windows users. It also has an N-Key Rollover. If you have an issue with large bulkier keyboards, this one offers you all of the features and keeps its compact design. 
Pros:
Small and easily adjustable
Customizable RGB lights
Options for mechanical switches
Great price to performance ratio
Cons:
The switches are not as efficient as the Cherry MX switches
Finding the best mechanical keyboard for typing can be challenging. There are many aspects to take into consideration and some keyboards might meet more than one requirement – but not all of them! It's important to set your criteria first before diving into the research phase so that you don't waste time researching products that will not perfectly suit your needs. You can check out more related content on our blog such as hot-swappable mechanical keyboards.
Frequently Asked Questions