The keyboard is furniture for your computer. If you buy a good one, it will yield years of work without messing up its general performance. But if you buy one that is not up to the mark, you might end up with an unusable machine, and a bunch of money wasted.
Not to worry though, this is exactly why I'm writing this guide; to help you with an investment. The research has been done, and the list has been made. Here are my top picks for the best gaming keyboards under $200.
In this guide, we cover the aspects of performance, keycaps, printing, price point, the type of key switches used, and my personal favorite, the design. There is going to be a pros and cons list at the end of each product review that will summarize the general gist of every product.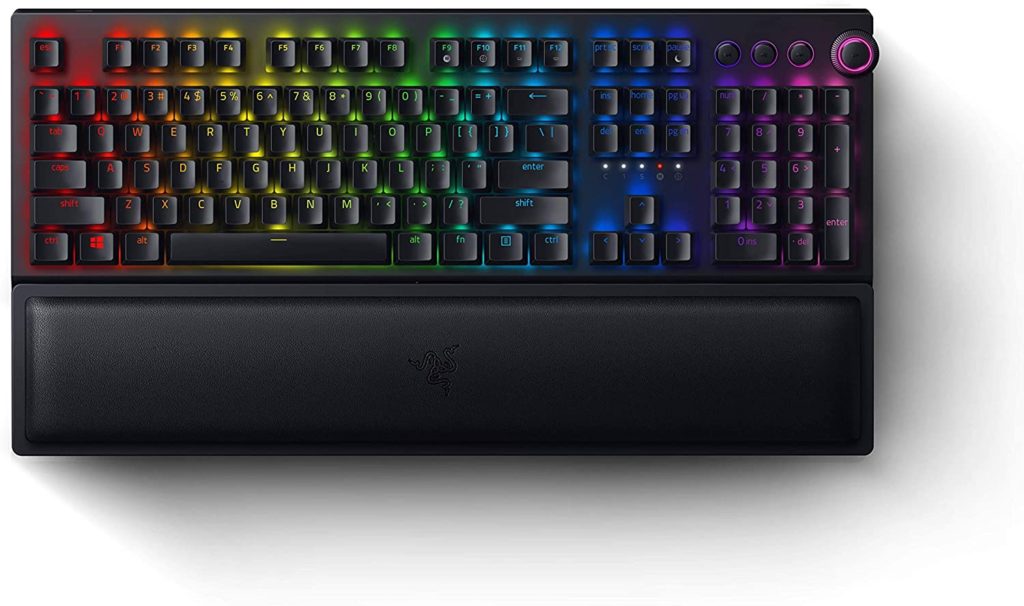 1. Razer BlackWidow V3 Pro Mechanical Wireless Gaming Keyboard (Editor's Choice)
3 Connection Modes
Razer™ Signature Mechanical Switches
Transparent Switch Design
Doubleshot Keycaps
Razer Chroma RGB Lights
Whew! We have a lot to cover with our first product, don't we?
The Razer BlackWidow V3 Pro is a beast among other beasts in the keyboard world. With its fancy mechanical switches and the corresponding transparent designs. It not only looks bright, but it also performs bright as well. This one is here to stay!
Specifications:
Razer offers three types of switches with this keyboard: Yellow, Green, and Orange. All three equal in terms of performance. The switches feel similar to the cherry switches but are slightly softer and depress better. You are going to have a blast, gaming with these. The Green keys are clicky and tactile and make their presence known. The yellow keys are quiet and linear. And the orange keys are quiet, but tactile (you get the best of both worlds with these)
The keys are well-spaced, well-lit, and are comfortable to use during intense, fast-paced gaming sessions.  The keyboard comes with an N-Key rollover and an OTF macro recording, efficiency and efficacy both!
Features:
When I say that this keyboard is not lacking in features, I mean it. It has chroma-based RGB lights that can be personalized over 16.8 million different colors, it does heavily depend on the software SYNAPSE, which is windows based. It also comes with a set of effects that you can choose based on your mood for the day. Fun, right?
You get three modes of connection, the personalized Razer™ HyperSpeed, the Bluetooth connection (which allows you to connect to 3 devices at the same time), and a wired USB-C connection. Razer recommends the HyperSpeed connection during gaming for faster performance.
Design and Ergonomics:
This black beauty comes with an aluminum construction that can take hours of gaming sessions without breaking a sweat. The keycaps are Doubleshot ABS keys that are resistant to wear and tear. Despite being ABS, these keycaps do not smudge and are satisfyingly textured.
And for all the ergonomic nerds out there, yes, this keyboard comes with a very comfortable, cushioned wrist-rest as well.
Pros:
Comfortable and fast for long hour gaming sessions
Well-lit RGB system
Solid quality
Cons:
Heavily dependent on the associated software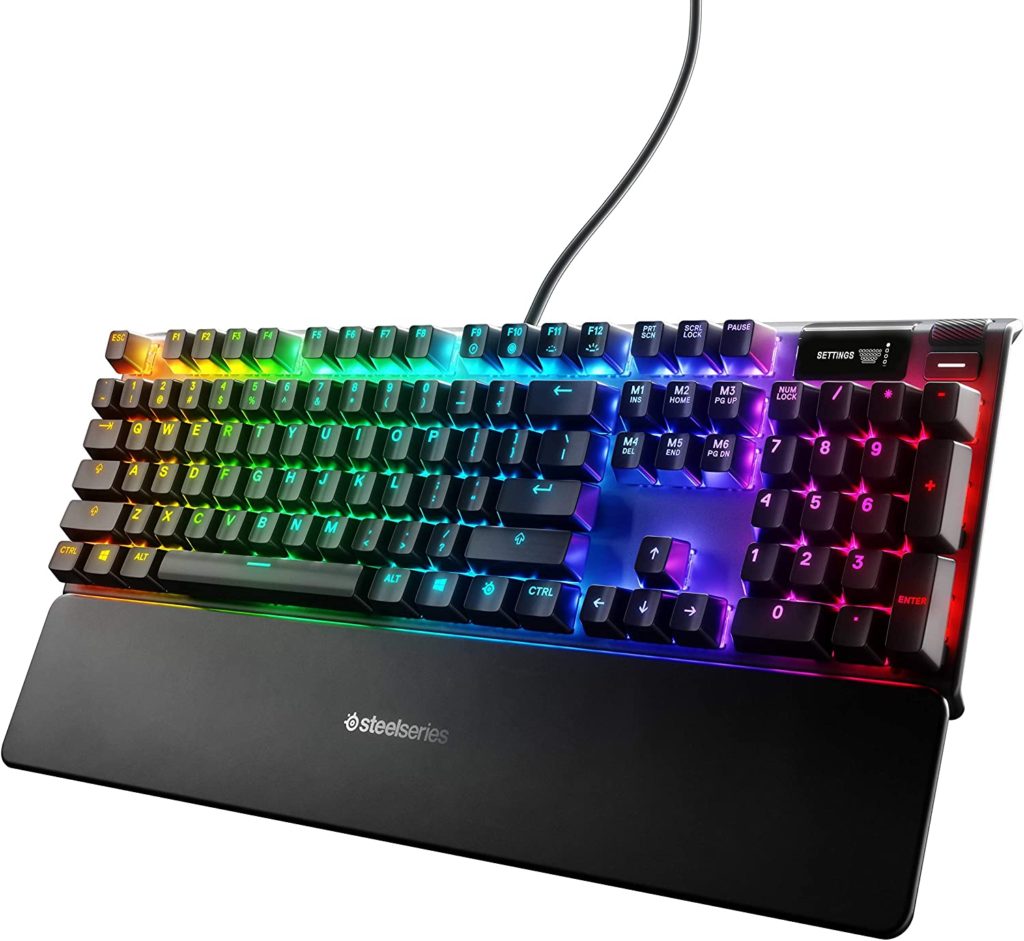 2. SteelSeries Apex Pro TKL Mechanical Gaming Keyboard
OmniPoint Adjustable mechanical switches
OLED Smart Display
Aircraft Grade Aluminum body
Simplified Multimedia controls
Dynamic RGB lights
SteelSeries has ALWAYS delivered. With their Apex Pro TKL mechanical keyboard, they have done it again with their own Omnipoint Mechanical Switches which allow you to do the previously deemed impossible, change your keyboard's response time and actuation distance during use.
Specifications:
How do you change the response time and actuation distance while using the keyboard, you ask? The OmniPoint mechanical switches use magnetic effects (called the hall effects) to measure the actuation distance, the keypress is registered at a point where you want it to. It does not have a window of actuation distance, it just works when you want it to. The feeling of the switches is similar to the Cherry MX red switches.
This makes the response time smaller and the actuation distance shorter (The shortest distance being 0.7 ms, and 0.4 mm respectively as advertised). The distance can be changed over a range of 0.4mm to 3.6mm which changes the corresponding response time as well. This can be adjusted through the OLED screen you get on the top right of the keyboard. This control you get through the OmniPoint switches is ideal for gaming.
Features:
The dynamic RGB lights, with per-key customizations, make the keyboard stand out, literally and competitively. With its OLED screen, and the SteelSeries engine, you can effortlessly configure the lights. The OLED screen can also be used for a set of different functions such as keeping track of your OTF recordings and changing profiles. It does all of this incompatibility with the engine.
Design and Ergonomics:
The dark grey/ black body, made of aircraft-grade aluminum gives it a stark contrast when taken in the light of its RGB system (pun intended).
The OmniPoint switches also make its keys more durable and less prone to wear. And for the cherry on top, it comes with its own cushioned wrist-rest.
Pros:
Ground-breaking switch technology
Aesthetically cleaner than a lot of other keyboards
Gives a lot more control to the user through software and OLED screen
Cons:
Some keys do not have OmniPoint switches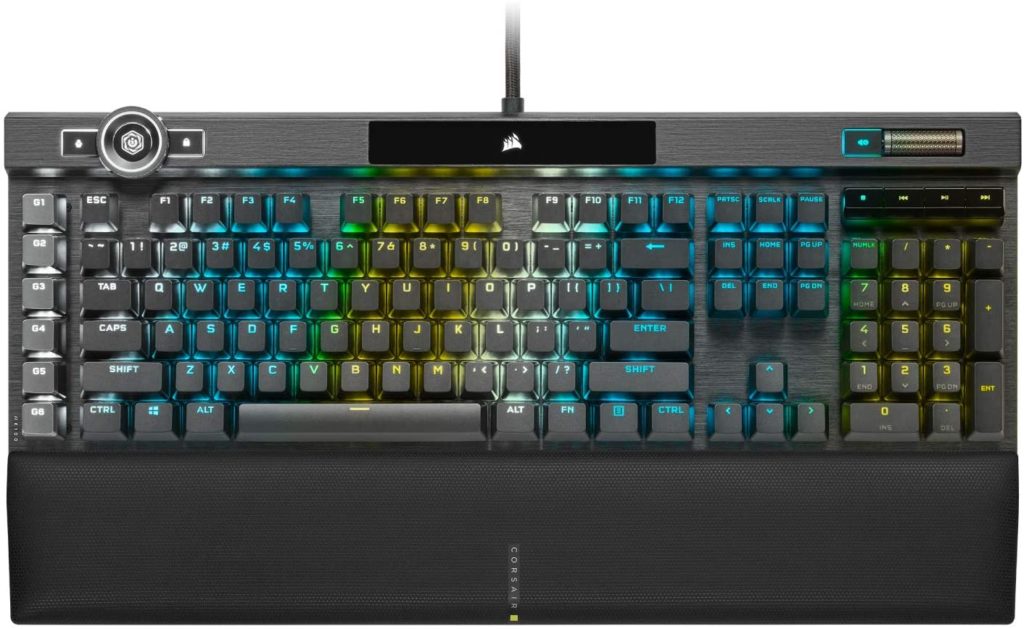 Related: Top 6 Gaming Keyboards for Gaming and Typing
3. Corsair K100 RGB Mechanical Gaming Keyboard
Double aluminum body
Linear and Fast Switches
iCue Control Wheel
Macro Keys
The third on our list is the Corsair K100 RGB Mechanical Keyboard, with its comfortable design and its sleek frame. The keyboard comes in two types; One with Cherry MX Speed Silver switches, and one with its own OPX optical-mechanical switches.
Specifications:
Like I mentioned before, Corsair offers the K100 with two different switches.
You have the traditional mechanical Cherry MX speed silver switches, which offer an actuation distance of 1.2mm, the total distance becoming 3.4mm which comes with a very fast response time.
Then you have their original OPX optical-mechanical switches that offer an actuation distance of 1mm, making the total travel distance 3.2mm (faster than the corresponding Cherry MX switches).
Features:
Like the other previous keyboards, the K100 is also a very feature-rich, software-dependent keyboard.
The iCue control wheel is a programmable metal ring on the top left of this keyboard. This wheel lets you take control of the RGB lights, the brightness, and the profiles associated with the keyboard. It also comes in handy with app switching, zooming, and scrolling. This feature, however, is not very useful in terms of gaming.
The wheel is completely programmable and can be customized according to your personal preferences. The different colors of RGB lights on the wheel show the different modes it can be in.  
The software that is linked to this keyboard and its wheel is the Elgato stream deck software. Elgato allows you to reprogram your macros, make more profiles, choose different colors for your RGB lights, and more.
Design and Ergonomics:
The keyboard's black sleek design is durable due to its aluminum frame. The few tweaks in quality and its three-sided RGB light edge make it better than its predecessor (the K95) in terms of look and design. The keycaps are a pleasant surprise, made up of PBT. So, you know the quality is going to be good. The wrist rest that comes with it is wide, cushioned, detachable that is as sturdy as the keyboard itself.
Pros:
Keycaps are made of PBT.
Gives control to the user through two different software
The overall aesthetic is fire
Cons:
The iCue wheel is not useful for gaming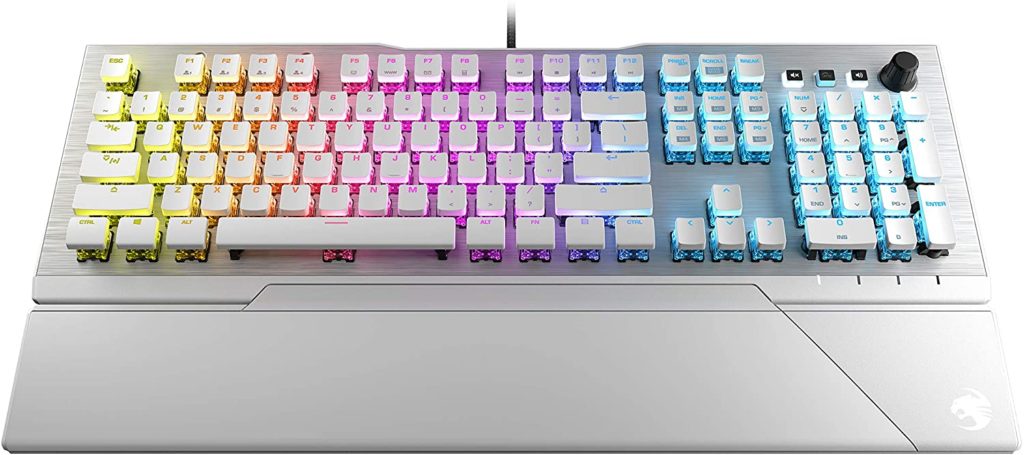 4. ROCCAT Vulcan 122 AIMO RGB Mechanical Gaming Keyboard
ROCCAT-developed Titan Switches
Anodized Aluminum Plate Body
AIMO Illumination
Ultra-Low Frame
With its graceful design and AIMO illumination, this white beauty is famous for its looks though out the gaming world. But what is beauty without brains? Or in technical terms, aesthetic without performance. It ain't the Vulcan 122 AIMO!
Specifications:
The Vulcan 122 AIMO comes with Roccat's own Titan brown switches. Advertised as tactile and silent, these switches have an actuation distance of 1.8mm (total travel distance of 3.6mm). Much smaller than the traditional Cherry MX brown switches, having an actuation distance of 2mm. These switches are also much more stable and swifter than the traditional brown ones. A perfect companion for your gaming sessions; fast but firm.
Features:
The software associated with the Vulcan 122 AIMO is the Roccat Swarm software, which allows you to modify the RGB lights and divide your profiles (you can create up to 4 profiles through the software).
The AIMO illumination is a special, Roccat-based RGB light system. The company advertises it as intelligent, organic, and evolving; alluding to the lights' ability to adapt to the user's gameplay throughout its usage (although, according to some users, this takes quite some time to reach its full potential). There is also the option of reprograming your keys to different functions, you can macro every key If you want!
Design and Ergonomics:
Call me biased because of my love for white, but I think that this color theme is, hands down, the best one on this list. The plate is made up of anodized aluminum, which adds to the keyboard's structural integrity and durability. The transparent design of the key base enforces the heavy RGB light aesthetic. All while supporting a dust-resistant design.
There is one flaw though, some users have reported that the surface paint of the keycaps tends to be prone to wear just after a few weeks.
Pros:
Superior Design and RGB lights
Is highly customizable and allows better control
Better performance than corresponding traditional brown switches
Cons:
The key caps wear out quickly.
The keys are too far apart.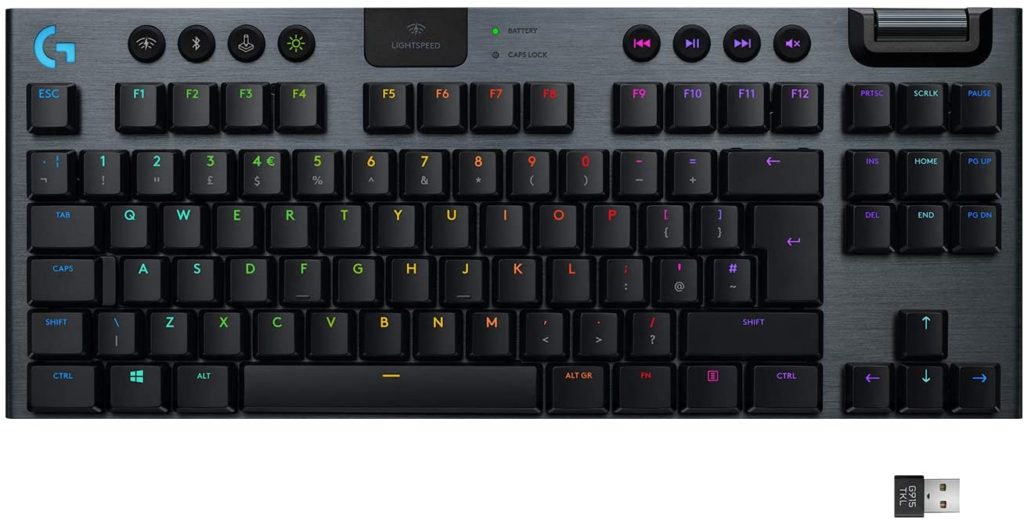 Related: How Long Do Mechanical Keyboards Last
5. Logitech G915 TKL Tenkeyless Lightspeed Wireless RGB Keyboard
Compact "Tenkeyless" Design
Fast Wireless Connection
Low-profile Mechanical GL Switches
LightSync RGB Technology
Logitech G Hub
Mechanical keyboards are on average bigger, there is not much you can do about it. Or is there? Behold! The Logitech G915 TKL wireless gaming keyboard. The fastest, most space-friendly, best gaming keyboard under $200.
Specifications:
The G915 TKL wireless keyboard features Logitech's self-produced mechanical switches known as the GL mechanical switches. These GL switches are different from your traditional mechanical switches by their extraordinary small height. These keys are catered towards Logitech's more ergonomic styled keyboard, that have low bodies.  
These switches are not only efficient in terms of their layout. With an actuation distance of 1.5mm and a total distance of 2.7mm, they work great, especially in terms of gaming. The G915 TKL has three different types of GL switches you can choose from; The GL linear, The GL tactile, and the GL Clicky. You have options.
Features:
The G915 TKL comes with intelligent RGB technology (as advertised) that is fully customizable. Through the GHUB software, you can create different effects, designs, patterns, and set of colors to match your gaming system's theme. You can also save up to 9 RGB profiles! You can also create macros and program your buttons the way you want. These get saved into the keyboard in 3 onboard profiles that can be jumped from by using F1 to F4. Very innovative!
Design and Ergonomics:
Logitech advertises this keyboard as having the same characteristics are the G915, except it's more contemporary with its compact design and its ultra-thin body. It has an aluminum alloy top plate that looks especially nice with its white color version. Its low frame and closely, evenly spaced keys allow more comfort for the user.
Pros:
Great performance
Features relevant to gaming
Compact and Portable
Comfortable to use
Cons:
Does not come with a wrist-rest.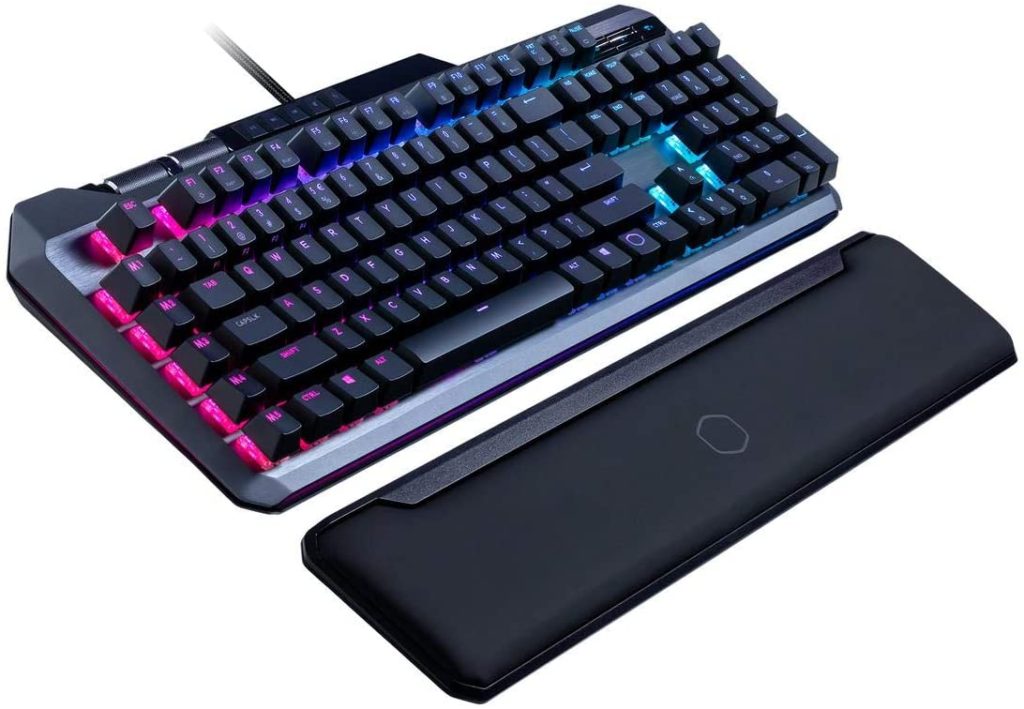 6. Cooler Master MK850 Gaming Mechanical Keyboard
AIMPAD TECHNOLOGY
More Control with Precision Wheel and Media Keys
OTF Recordings
Cherry MX Red Switches
Specifications
The MK850 Keyboard has Cherry MX Switches, cooler master took the traditional road with this one, not that anyone's complaining. They did choose the Cherry MX red switches for you by default. Red switches are famous for being easier to press and light. So if that your thing, go for the cooler master MK850.
This keyboard is famous for its imbued analog technology, the keys automatically adjust themselves gradually to mimic the working of a controller. Something that is specifically catered towards the gamers.
Features:
In addition to its very immaculate RGB light system, the keyboard comes with a bunch of different customization options through Cooler Master's Portal software. You can customize each key individually and set up different effects. The precision wheel and media keys are a fun little addition that brings the look and function of this keyboard to a complete.
Design and Ergonomics:
The anodized aluminum chassis is not only durable but also makes the keyboard comfortably heavy. The RGB lights, in cohesion with the precision wheel and the multimedia keys, give the keyboard a very professional look. Although the keycaps are made of ABS, they are sturdy and well-built, very resistant to smudging and build-up.
Pros:
Advance Analog Technology
Great for gamers
Sturdy and durable
Simple and easy-to-use software.
Cons:
Slightly more expensive than the other keyboard on this list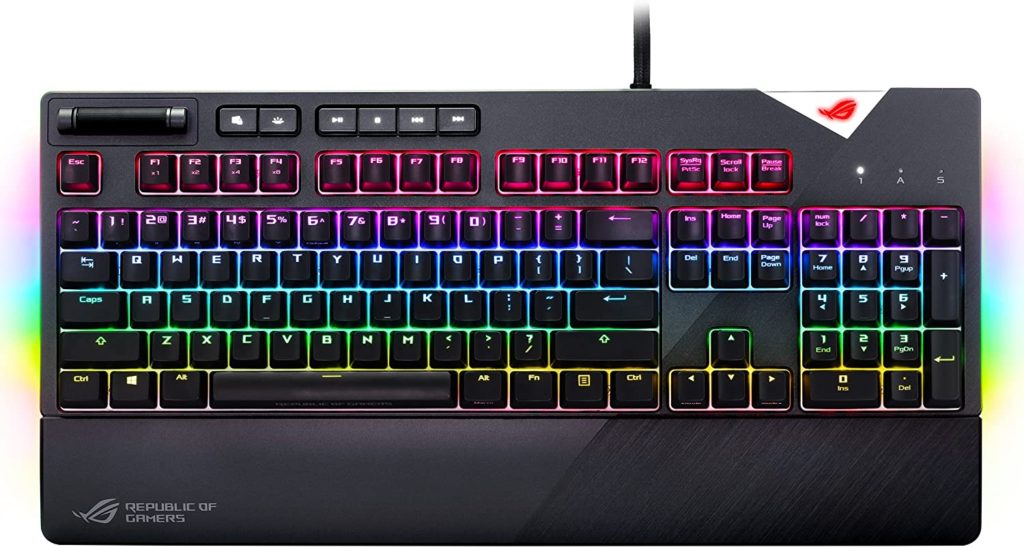 7. ASUS RGB Mechanical Gaming Keyboard – ROG Strix Flare
Cherry MX Mechanical Key Switches
Dedicated Media Keys and Volume Wheel
Aura Sync RGB lighting technology
ROG Armoury II software
Specifications:
Like the previous keyboard, the ROG Strix Flare is also a classic Cherry MX switches keyboard. But unlike the previous one, you get to choose between your switches, the options being; Blue, Red, Brow, Black, Speed Silver, and Silent Red
ASUS claims that these key switches are optimal and provide the most efficient response with every stroke. The body is made from transparent plastic to allow some of the RGB to show through.
Features:
The Volume wheel and dedicated media keys provide easy and quick access to functions which is especially useful during a competitive game. They also give the keyboard a very aesthetic look because of their fancy quality.
The compatible software is called the ROG Armoury II, it lets the user control the lighting, the macro, and the profiles. Your standard software stuff. You get a wide range of lighting effects and up to 6 profiles to save your configurations in.
Design:
The Aluminum body and the smooth RGB system give the keyboard a very elite look. The ABS keycaps are of good quality and very light. The transparent plastic body gives the keys a nice glow at the bottom.
Pros:
Aesthetically pleasing with a clean finish
Wide range of options for the switches
Cons:
Brings nothing new to the table.
There are so many different kinds of gaming keyboards out in the world. And for someone looking for a new one to buy, it's bound to get nerve-racking. Heck, I wouldn't know where to start!
But among all of those keyboards, the ones above stood out the most to us, and have made it into our list for the best gaming keyboards under $200. And for good reason, if I may say so myself.
So, don't you worry, just go through our guide, do your little research, and buy yourself a good keyboard. Do let me know which one you picked!
Are you looking for a new tenkeyless mechanical keyboard? This review will make it easy for you to find a great option!
Frequently Asked Questions