When it comes to gaming, keyboards are an important part of the equation. As a keyboard fan or a new gamer, you might think sometimes about what keyboards pro gamers use. So we did some research into gamers and tried to find out what influences their decision when buying a keyboard for gaming.
There are a variety of different keyboard types and layouts that are popular with gamers. Some common types of keyboards include:
Standard keyboard: This is the most common type of keyboard and is used by everyone from casual gamers to professional players. It has standard keys and is easy to use.
Korean Keyboard: Korean keyboards are popular among StarCraft 2 and Warcraft III players because they have extra keys for hotkeys, macros, and other gaming features.
Tournament Keyboard: Tournament keyboards are designed for professional gamers. They have extra features like programmable buttons, backlighting, and built-in sensors that allow them to track player stats.
When a pro gamer chooses a keyboard, there are a few things to be considered. First, what kind of experience do you want? A basic keyboard with backlighting and macro capabilities will suffice if you're just starting out. If you're more experienced, though, you may want features like programmable keys and customizable macros. Second, what type of computer do you have? Some keyboards are specific to certain types of computers (like laptops or desktops), so make sure to check before making your purchase. Finally, price is always an important factor to take into account.
Now that we have all the basic information, let's check out the keyboards used by pro gamers! 
5 Keyboards used by Pro gamers
1. Logitech G915
Logitech G915 is a mechanical gaming keyboard that is used by pro gamers. It has an impressive feature set for a gaming keyboard. To specify some: the backlight can be customized to your liking, and it also comes with Programmable Macro Keys which are great for automating tasks in games. The anti-ghosting technology helps keep your keys pressed down simultaneously so you don't have to worry about misspelling words or accidentally hitting one key multiple times. Lastly, the 10 key rollover ensures that you never have to worry about losing your input. This is helpful for players who need to keep track of multiple commands at once.

2. Corsair K100
Corsair K100 is another great option for professional gamers and MOBA players. It features a detachable cable and backlight that makes it easier to see in low-light environments. It also has a built-in media control to help you customize your audio experience. For MMO gamers, the inclusion of dedicated macro keys and textured keycaps make it easier to keep your hands on the keyboard for extended periods of time. Additionally, it's quiet yet has responsive keys that are perfect for fast-paced games and the keyboard has two extra USB 3.0 ports that can be used for gaming peripherals or other devices.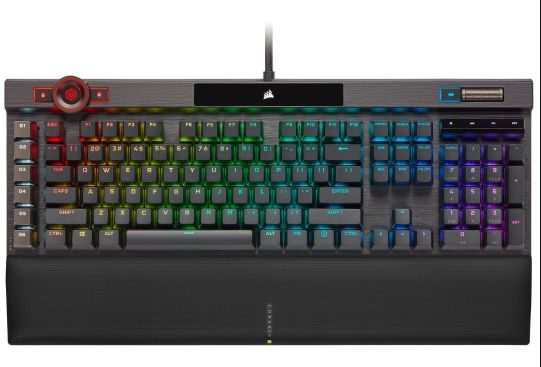 3. Steelseries apex pro
SteelSeries has released the Apex Pro, their newest keyboard designed for professional gamers. The Apex Pro is an entirely different approach to keyboards, with features that are meant to take an entirely different approach to gaming. They call it "the biggest leap in mechanical keyboards since the invention of the mechanical switch" and while that's a claim that's incredibly bold, they do serve up some neat features with this board.
The first feature is what they call "keyboard feedback." This refers to the fact that all of the keys on the Apex Pro are backlit, which means that you can see what you're doing in dark environments or when playing in low-light settings. This is a big advantage over other boards, which often lack key lighting altogether or have limited options for customization. Another big feature is the "Apex" key. This is a dedicated key that you use to control your cursor. When you hit the Apex key, the cursor will move to the center of the screen. 
However, one should be mindful because these keyboards are heavy on the pocket.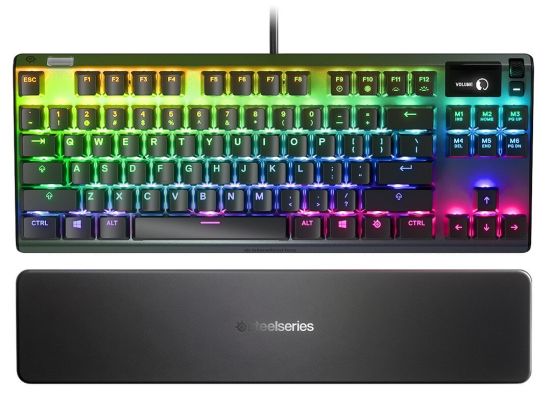 Related: Top 6 keyboards for gaming and typing
4. Razor BlackWidow Chroma
Another keyboard that pro gamers use is this Razor BlackWidow Chroma. It is a TKL keyboard that has a sleek black design with orange backlighting, providing an aggressive look for gaming. The keyboard has a detachable cable and a compact design which is great for traveling, and it also has an anti-ghosting feature so you can keep up with the action without any errors.
Plus, the Razer Synapse 2.0 software makes it easy to customize your gameplay settings. Whether you're a competitive player or just need an efficient keyboard for general use, the Razer BlackWidow Chroma pro gamer is a great choice.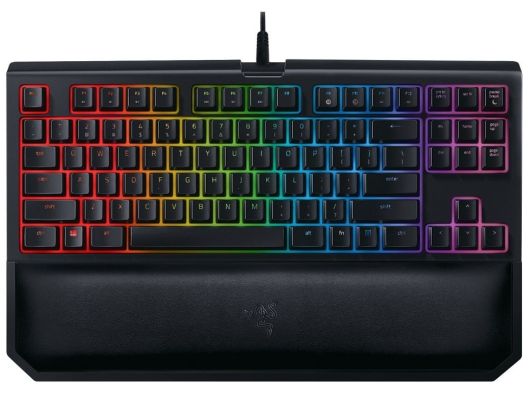 5. Razor Cynosa V2
Razor Cynosa V2 is one of the most popular gaming keyboards on the market. It is used by many professional gamers, including Nathan "NBK" Schmitt and Tommy "TJH" Hundt. The keyboard features a lightweight design and comfortable contoured keys that make it ideal for long gaming sessions. The dedicated media keys with simple controls make it easy to configure play, volume, pause and adjust the screen brightness. 
Additionally, the keyboard has a backlight that makes it easy to see in low-light conditions. It is spill-resistant for your long sessions of gaming owing to its sturdy build and durability. And the most attractive thing about this keyboard is its cost.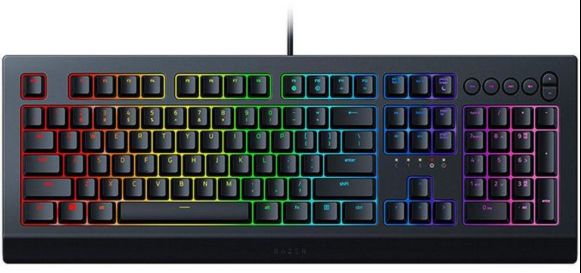 Final words on keyboards for gamers
When it comes to gaming, keyboards are essential. And the best thing about mechanical keyboards is the wide variety of options to choose from. It really caters to everyone's needs and wants, so given the endless options and configurations, there is definitely a quality keyboard that will help you win in your favorite game.
However, since a lot of options can be confusing, we have tried to make it easy for you by listing the keyboards most commonly used by the pro gamers so be sure to check out the options listed here because you can safely trust them.
If you are looking for more keyboard options look into our article on the best gaming keyboards. We hope you like it.