Do you know that keyboards come in different shapes and sizes? Do you know what significance those sizes can hold for you? While every keyboard gets the job done, the size of it can create a major impact on your comfort and productivity. So, coming to the different sizes of the keyboard, you might have heard about them in terms of percentages, as the different percent accounts for the different sizes. The "percent" stands for the approximate number of keys in each board. The different keyboard sizes mean a different number of keys, and they significantly affect how you access one function. Depending on the size, it may be accessed through keystrokes that are subsequent for example ctrl, shift, and alt, or through pressing a single key multiple times.
But, the number of keys is not the only factor affecting the size of the keyboard, the size of each key and the spacing between them also determines it. 
So, now we know that keyboard exists in multiple sizes and we would explore the most popular keyboard sizes to help you understand what they mean so that you can select the best one for yourself and save the hassle that would come from buying the wrong sized keyboard. 
100 Percent Keyboard
This is commonly known as the full-sized keyboard, the standard one used, with about 100 keys as the percentage suggests. This includes the number pad, row of function keys, home cluster keys, and directional keys. These are the keyboards usually purchased with computers. It is a great option for those users who have to frequently input numbers or need the maximum number of keys for their use. 
So, with the full-sized keyboard, you might be wondering how long it is? Generally, these keyboards are about 17 inches wide and 6 inches deep.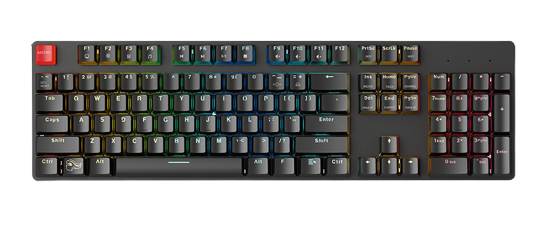 80 Percent Keyboard
This keyboard size is commonly known as tenkeyless, with typically 87 keys. This keyboard is popular as it eliminates the number pad and has a shorter length as compared to a full-sized keyboard, allowing more space on the desk for the mouse. Also, it's easier to carry and has a layout similar to the full-sized one, hence easier to adapt with.
So, basically, it offers users the same functionality as the full-sized keyboard, without having to face the struggle of adjusting to a new layout. But on the other side, it is still bulky when compared to the next percent model i.e., 75 percent.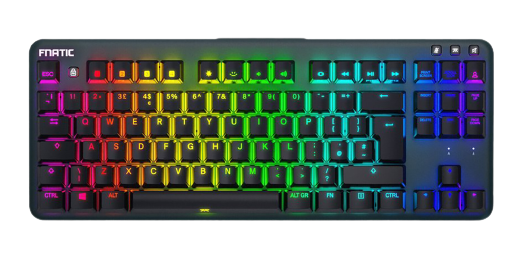 75 Percent Keyboard
You might be thinking that smaller keyboards mean lesser keys. But that's not the case. The compact version of tenkeyless is the "75 percent" keyboard, having tighter arrangement keys. This is suitable for users who look for compactness but have the same functionality as the tenkeyless. It might take users some time to adjust to these slight variations in key placement, but it takes only up to 3 quarters of your space of a full-size keyboard. 
So, it really does come down to the aesthetic preferences of users when choosing between these two different percent keyboards. However, note that 75 percent of keyboards don't have any standard layout.  
65 Percent Keyboard
Mostly, 65% of keyboards have 68 keys but an interesting fact here is that most of the expensive ones have 67 keys. At this percent, you lose function keys and even home cluster keys in some cases, but the dedicated arrow keys remain. This keyboard size is useful for those people who are into writing and have to switch around spreadsheets. For workplace spaces that are aesthetically pleasing or for gaming sessions, 65% and tenkeyless are good options.
However, the number of keys isn't the deciding factor here when choosing between the different sized keyboards except when the decision is to be made between a 65% and 60% keyboard (discussed next). 
60 Percent Keyboard
This is the same as the 65% and as the name suggests, accounts for only 60% of the full-sized keyboard, but this is where you lose the dedicated arrow keys. This keyboard size is again the most popular among gamers. The users are mostly attracted to this for its size and customizability, and they are also budget-friendly.
However, the lack of keys can be frustrating and difficult to deal with as it loses out a lot on functionality. But again, this keyboard is of the length that gives you great freedom with adjusting its position and may reduce wrist and shoulder aches. It measures about 4.25 inches deep and 11.5 inches wide, which is significantly lesser than even the tenkeyless, and optimal keyboard size for those who are always on the go.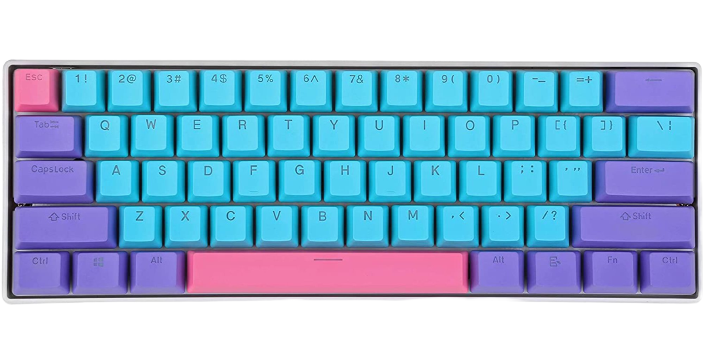 40 Percent Keyboard
As you might be thinking, this is the smallest keyboard size and the last percent model to exist. This keyboard further gets rid of the non-letter keys and the top row. This model is the least common type of keyboard and it rarely exists because of its inherent nature that mostly puts off the buyers due to its limitations, thus resulting in very limited demand.
It is hard for anyone to get familiarized with this model and it is programmed in layers to account for the missing keys. So, big companies don't really manufacture these, and those which are produced are mostly custom-made by hobbyists of mechanical keyboards.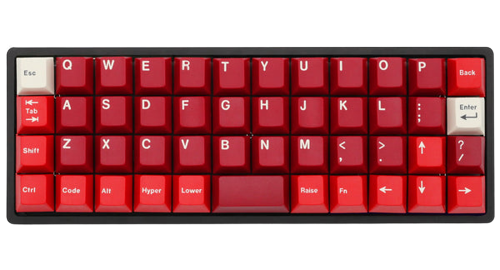 Conclusion: 
We can safely assume that every keyboard has its own pros and cons, and one must assess its functionality and their own need to choose the one that best suits their purpose. 
If you prefer having the convenience of a numeric pad and lots of function keys, then a full-sized keyboard is your best bet. If your mouse usage is a lot and you want to have sufficient space on your desk, then tenkeyless is the choice to go if you don't use a numeric pad. If you prefer greater space than this and want to carry your keyboard during traveling then you can go for the more compact options. 
Either way, each keyboard gets the job done, you only have to determine the right size for your need.