If a lot of typing is a part of your plan then an essential accessory for you is a good and reliable keyboard. There are keyboards available that also pair with smartphones and tablets. And a wireless keyboard serves many purposes. If you're looking to declutter your home, or if typing on a keyboard is something you enjoy, these keyboards are great. They are also popular for use in the office because they allow workers to take their work with them wherever they go. Also, you won't find any such difference between the use of a wireless keyboard vs a standard one except for the time when it needs to be charged or you forgot to do so. 
Logitech, which is a famously great developer of tech accessories, has keyboard options tailored to various uses, such as gaming and typing. It also has a series of some of the best wireless keyboards out there on the market. So, here we are about to list some of them for you so we can make the process easy for you.
So, let's dive in!
1. Logitech ERGO K860
This is the best Logitech wireless split keyboard if you are looking for an ergonomic board for the office. Your wrists are placed in a more natural position because of the negative incline created by its curved board that has 2 incline settings. And paired with the wrist rest that is fixed, it helps reduce wrist train especially if you are typing for longer hours. The switches are the typical scissor ones that when pressed, give feedback, but the bump requires a little force. 
The switches on this keyboard don't make noise and you can pair up to 3 devices to this board wirelessly via its USB receiver or Bluetooth. However, this wireless keyboard is compatible with most mobile operating systems and desktops, but on certain devices, some keys don't function as intended. 
However, on the downside, this keyboard doesn't have any backlighting, but it is definitely the best ergonomic keyboard we know of.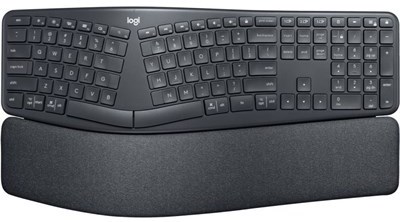 2. Logitech K380
Another great yet inexpensive option in Logitech's best wireless keyboard is this multi-device Bluetooth keyboard. It has a wireless range of 10 meters. And most interestingly, it has a battery life of 2 years, so it really just eliminates the need for battery change. 
To seamlessly move files between computers, and perform other functions like copy, paste, and type, you can pair it with a compatible flow mouse of Logitech. 
Moreover, it is OS adaptive which means that for each device, it automatically recognizes it and maps keys to give you a layout that is similar, even including shortcuts. 
This bluetooth wireless keyboard is compact and hence easy to carry around as well. And despite its compactness, its layout is almost identical to most of the laptop keyboards out there, as it includes all the frequently used keys, including media and function keys, and the small and top arrow keys. While the number pad is not full-sized, the compact layout owes to a lot less space taken up on your desk as compared to a full-sized keyboard hence allowing your mouse to be placed closer to your body.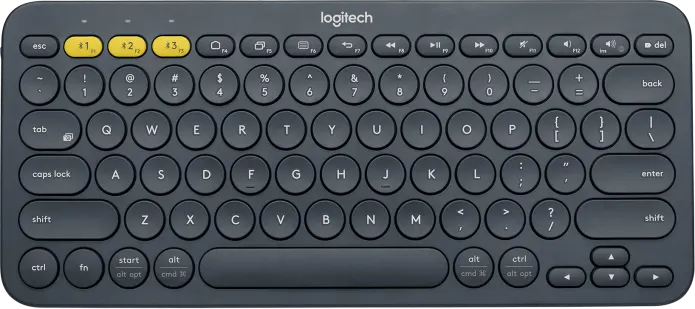 3. Logitech K780
If you're looking for a keyboard that is more compact than a full-sized keyboard and also has a number pad then Logitech K780 is the best option. You will find many similarities between this model with the K380 model, for instance, it has round keys, the same battery life, warranty, ability to pair up with up to 3 devices via Bluetooth, and warranty. 
For smartphones and tablets, it has a stand that is inbuilt, and a USB wireless dongle comes with it. However, there is no layout version for Mac and this model doesn't have backlighting.
4. Logitech MX keys ( Recommended Wireless Keyboard )
For something to keep your wrists a bit more comfortable, we have this classic model with a low-profile design from Logitech's wireless keyboards. Also, it helps you avoid missed clicks and typos thanks to its indented keycaps that guide your finger to the middle. 
It is fully compatible with all the operating systems and you can easily reprogram keys so they can perform varied functions. However, a limitation here is that the customization capabilities are somewhat restricted as you can only use a function from a drop-down list for reprogramming the keys. However, if you are still looking for an option that is comfortable to use then this is another safe option for you.

5. Logitech G915 Lightspeed
This one is the best Logitech wireless keyboard for gaming. Its board is low-profile that is not only well-built but also comfortable to use. And the best part is the latency which is amazingly low. Also, the switches, GL tactile, have a very short travel distance thus providing the feeling of responsive gameplay, and you can even have it with other GL switches like linear or clicky. This model wirelessly connects with up to 2 devices. 
However, there are some shortcomings as well. The ABS keycaps are prone to shine from the oil of your finger, and the keycaps don't really feel premium. Also, apart from dedicated macro keys, you can't reprogram any other keys, Nevertheless, it is a high-performing option and hence one of the best too.

6. Logitech MX Keys Mini ( Favourite Wireless Keyboard )
One of my favorite keyboards is this mini keyboard from Logitech which they recently introduced. Logitech MX keys mini is a small wireless keyboard that you can use to type wherever you want, whenever you want. It has a 75% compact board with a dedicated F-row and arrow keys. It has a powerful battery that lasts up to three months on a single charge. This keyboard comes equipped with Smart Keys and Voice Activation Technology, which give you the ability to access your favorite apps without having to reach for your computer.
Logitech MX keys mini is the perfect wireless keyboard for your home office or small workspace. With the Logitech Perfect Stroke key system and quiet scissor-switch keys that respond with a cushioned touch, you can type more comfortably. The compact design makes it easy to take everywhere, while programmable F-keys let you access important functions right away. Plus, with full 1-year battery life, this wireless keyboard stays charged longer than ever.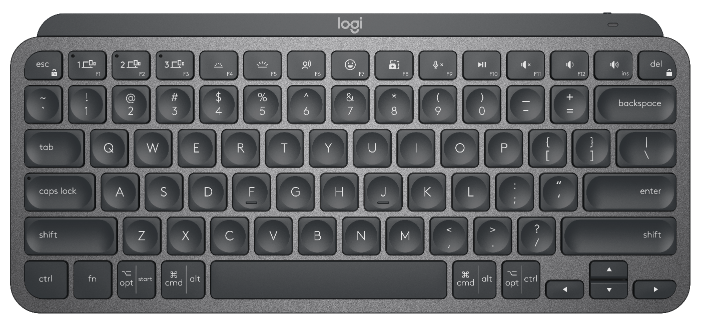 Final words on Logitech Keyboards
When buying a wireless keyboard, don't forget to look at the keys, size, adjustability, and battery needs. For the options listed above, we have assessed some of the best Logitech wireless keyboards based on their primary typing experiences like the feel of typing, its noise, and the key designs for instance. According to our observation, these models win on multiple factors and you can safely trust any of these options but of course, make sure that it aligns with your own preferences as well. 
If you are still stuck with a wired keyboard but hate your messy and cluttered desk, we have an article on how to hide your keyboard cables to create a clean and minimal setup.
Happy Shopping!