For every Fortnite player out there, timing and precision are crucial for them. So a surefire way to step up your playing is to get yourself a keyboard that enhances these elements. 
Being one of the most popular games at this time, using a keyboard with quick reaction time and actuation can give you a clear advantage but for that, you must be clear about what you are looking for. 
So, if you are looking for a competitive edge in Fortnite, you don't have to go heavy on your pocket. From ergonomic options to responsive switches, we have listed the best keyboards for Fortnite that we think will bring value to your experience and level up your game. 
Let's dive right in! 
Top 4 Best Keyboards for Fortnite
1. Logitech G213
The G213 is a gaming keyboard that offers powerful features designed to give you an edge in your next game. It's a phenomenal price, too! The Logitech Prodigy series offers professional-grade performance delivering at a speed and responsiveness that is 4x over a standard keyboard. 
You can surely expect impressive tactile pressing and responsiveness, and the Mech-Dome switches compliment the gaming software that makes the assuring victory feel like a breeze. 
Also, if you talk about the style, it has everything good. From a vivid RGB backlighting that covers the keyboard, integrated wrist-rest, and a design that is very intuitive, it has everything good you can expect. This is one of the best offerings by Logitech and one of the best keyboards for Fortnite you will find in the market. However, note that it can be quite loud and its craftsmanship is not too fancy.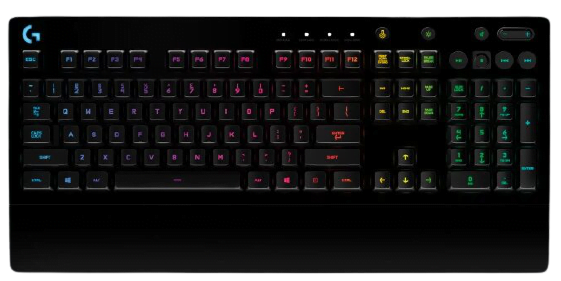 2. Ducky One 2 Mini
This is a tenkeyless keyboard that has secured its name in the community of mechanical keyboards. The One 2 Mini is a great keyboard for gamers, thanks to its powerful firmware and high-quality build.
This keyboard is a convenient option if you travel since it has a detachable cable, also allowing you to use your own custom cable. However, it comes without Bluetooth, a feature that is common on keyboards of this level. But it is not much of an issue if you are looking for a keyboard for playing Fortnite as many people prefer their keyboard wired to play games as Bluetooth has more latency issues.
Ducky One 2 Mini has a standard blackish look, but there are options available that can add you to some color. So for instance, RGB lighting, with numerous effects and modes, enhances the ambiance as well thus making it fun. 
The One 2 Mini comes with a few colorful keycaps, as well as a unique space bar design. Also note that these keycaps are made of PBT plastic which is the best material, which is resistant to oil and is durable as well. 
Also, for switches, you have tons of options from Cherry MX and Kailh. But for gaming purposes,  our recommendation would be the linear switch options, for example, red, silver, black, brown from Cherry MX, and speed copper and BOX white from Kailh. But again, it's totally up to your own preference. 
However, this keyboard is not compatible with Mac hence one major downside to it. But if you are a windows user then it is a no-fail option for all the Fortnite lovers out there.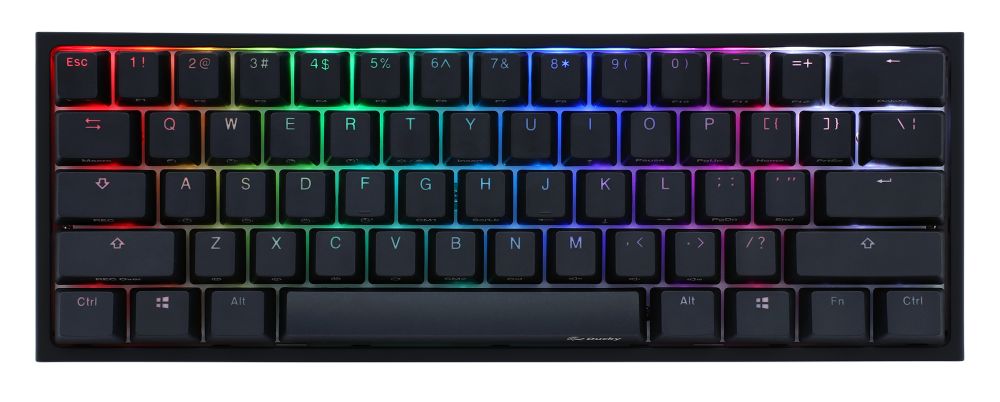 Related: Best Keyboard For Minecraft
3. Razer Huntsman Mini
Another popular compact keyboard for Fortnite. It's razer optical switches that differentiate it from other tenkeyless which actuate via light. Its aluminum top plate owes to its solid build. It has a detachable cable but not a bluetooth tho. This cable included in this keyboard is not only braided but also better than the most that come with a keyboard.
However, the stabilizers on this keyboard feel a little rattle, maybe due to its style. This keyboard has a razer style instead of cherry stabilizers that don't support the enhancing mods of stabilizers that are traditional. 
You have Silent red, purple, and red options of optical switches available in this keyboard where the purples ones are louder and tactile while red ones are smooth and linear. And what makes these switches different from the mechanical ones is the fact that they were created for lower actuation distance and quicker reaction time. When you press a key, the light sensor functions these switches and in Fortnite, a bit better speed can definitely come handy. Also, these switches again are made of PBT material, the finest of all. 
However, the major drawback of this keyboard is similar to the one discussed above, while it supports Mac, it loses a lot of its functionality, hence again not suitable for Mac users. 
Razer Huntsman mini is loved for its build, actuation, and RGB and if you want to try Fortnite with optical switches then this is the favorite option among gamers, and interestingly you can find it at a good price. Thus, making it one of the best Keyboards for Fortnite.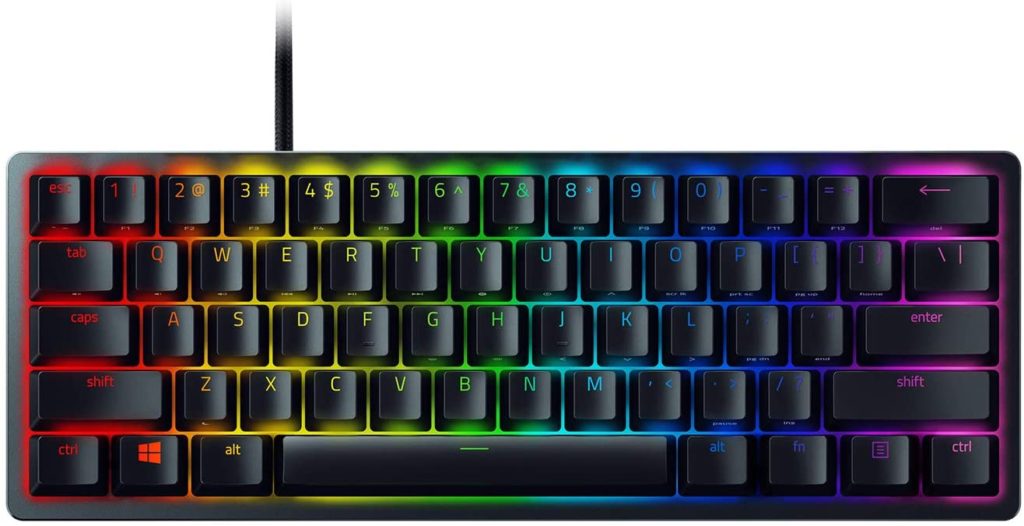 4. Logitech G513
The Logitech G513 Mechanical Keyboard is a great option for those who need a keyboard with plenty of features. It offers everything you need and more and is used by Myth, the world-class player so it is going to be nothing less than perfection. 
This model has RGB lighting effects that are high performance and a palm rest made of ergonomic memory foam added on with great responsiveness and actuation that comes from its Romer G tactile switches. Fortnite gets more interesting when you have this intuitively designed keyboard with a USB port that is pass-through. So you can expect to easily build, shoot, and move around the map. It's a great option for those players who are willing to spend a little more to improve their gameplay.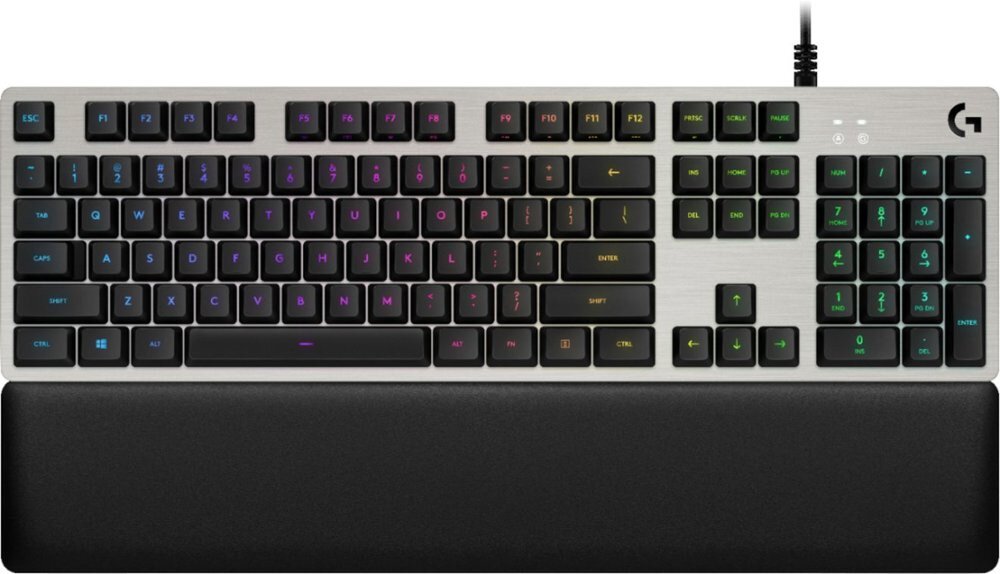 Conclusion
Some Fortnite pros believe that different keyboards can offer different advantages depending on the player's individual playing style. So, they don't come to one specific choice when deciding which one is the best keyboard for Fortnite. And navigating through all the options is quite a hectic task especially when you are confused about what you are looking for. 
You would want to make sure that the keyboard is able to amplify your gaming experience and being able to have key functions, specific lighting, and key functions programmed can make your game more enjoyable. So, we do hope that our thorough list has steered you in the right direction. Note how the Fortnite pros mostly prefer tenkeyless and smaller keyboards. 
The keyboards on our list are great choices for Fortnite and you can definitely explore more through reviews available out there. 
Thanks for reading!