If you're looking for a new Cherry MX blue keyboard, then you've come to the right place because in this article we will be briefly discussing some of the best Cherry MX blue keyboards. But, before we jump right into the last, it would be interesting to know what are the benefits of these Cherry MX blue switches. 
So, let's see. 
Benefits of Cherry MX blue switches 
Cherry MX Blue switches have a long history of being some of the best available switches on the market. They offer a great key feel, fast actuation, and durability. These switches are great for gaming keyboards because they offer a fast response time and can handle heavy use. So, to list the advantages: 
1. Audible Feedback:
Cherry MX blue switches give loud, audible feedback. This can be advantageous for gaming or typing because it gives you a clear indication of when you have hit the correct key.
2. Large Tactile bump:
The tactile bump of cherry MX blue switches is large, which makes typing more comfortable and prevents fatigue over time. Hence, typing on a keyboard with Cherry MX blue switches helps to minimize the amount of stress that you feel in your hands, which can lead to improved Typing Speed and Accuracy.
3. Long-lasting:
Cherry MX switches are known for their longevity they can last up to a hundred million keystrokes and gets better with use. 
Related: How to choose the perfect switch for your keyboard.
Now that we are aware of the advantages, let's look at some of the best Cherry MX blue keyboards available out there.
5 Best Cherry MX Blue Keyboards
1.  Corsair K70 RGB 
This keyboard is perfect for gaming and typography and stands strong against the most intensive use. It has full-sized keys that are backlit, making it easy to work in dark environments. The keyboard also includes a number of handy features, such as On-Board Memory and Programmable Macro Keys. You can do advanced programming of macros as well through its iCUE software. 
The K70 also has a number of features that make it a good choice for storage, for instance, its onboard storage of 8Mb and the inclusion of two USB 3.0 ports, an audio output, and a Kensington security slot. It allows you to easily save your custom profiles and settings to use further and you can then precisely control your in-game actions. 
Finally, you will also find dedicated media keys. wrist rest that can be easily removed, MOBA keycaps for tactility, and textured FPS.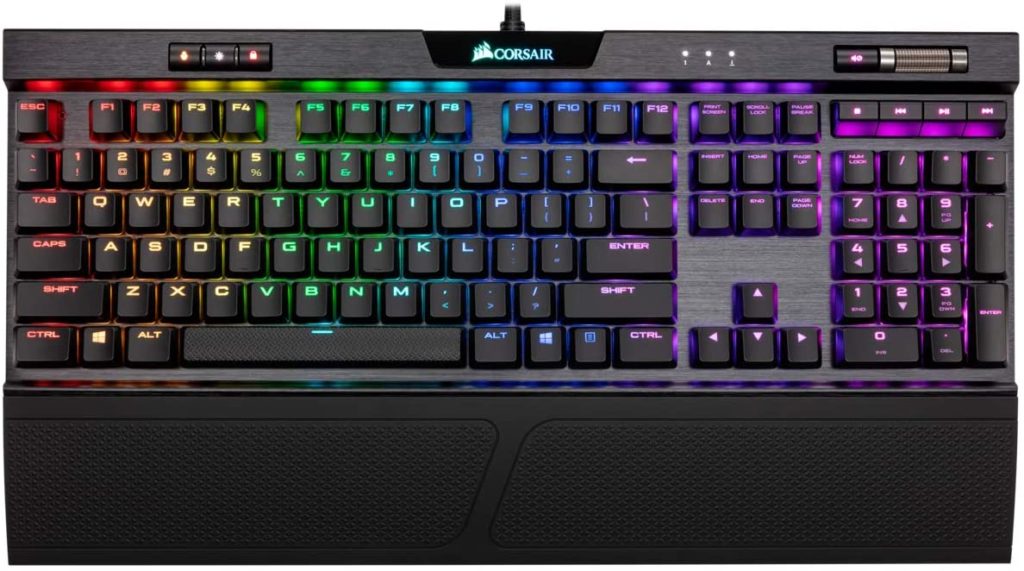 2. Ducky one 2 mini 
If you are looking for the best and most affordable option in cherry MX Blue keyboards, then this one's for you. This is a 60% keyboard that is plastic built, has a bit of flex, and is sturdy as well. 
The keyboard has two adjustable kickstands that allow you to change the height. It also has a zodiac spacebar and random colored 10 keycaps that adds personality to this simplistic keyboard. 
However, while the Ducky One 2 Mini is a detachable cable keyboard that makes it easy to carry, it does not have Bluetooth. So, this keyboard has a lower price and is older than some other keyboards, reflecting its lack of Bluetooth functionality.
This keyboard is customizable with RGB lighting and boundless effects, making it a popular choice for people who want to make their keyboard their own.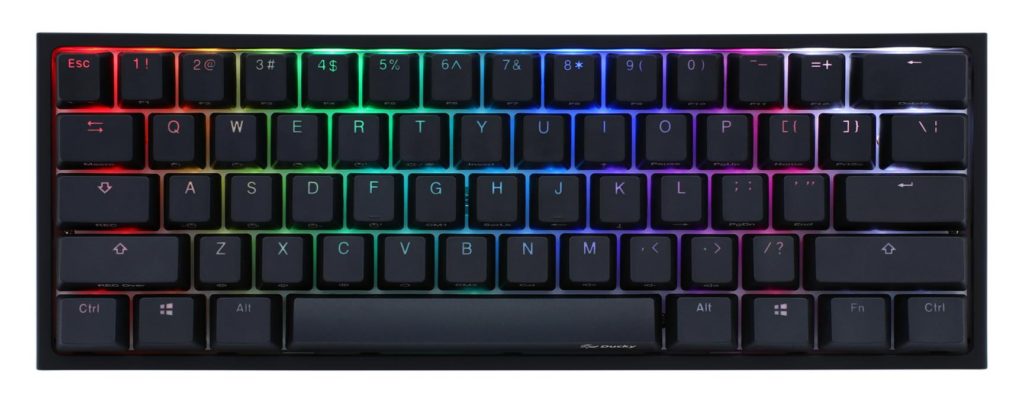 3. Corsair K95 
The Corsair K95 keyboard is a great option for gamers as it features an RGB backlight and backlit keys that make it easy to type and game in the dark. The keyboard also has programmable macro buttons and media controls, making it easy to organize your gameplay. The extra large keycap size means you can easily type in long gaming sessions, and the nonslip feet provide stability while you are gaming.
This cherry MX blue keyboard comes with PBT double-shot keycaps. Its frame is made of aluminum giving it a strong build and it is also integrated with the "Elgato stream deck software." 
Also, the Corsair K95 keyboard has the N-key rollover, which allows you to press all of the keys on the keyboard simultaneously without having to hit the key multiple times. Again, great for gaming, as it allows you to quickly and easily execute complex commands.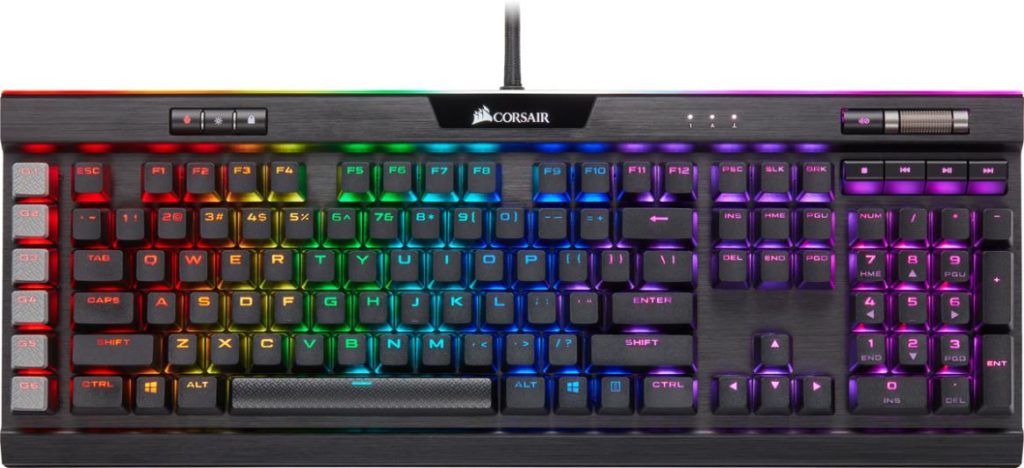 4. Roccat Ryos
Another choice for gamers is this Roccat Ryos. This keyboard comes with features that will make your gameplay even more enjoyable. For example, it has a backlight that makes it easy to see in dark environments, and it also has macro functions so you can record and playback your custom sequences without any hassle.
Additionally, the Roccat Ryos cherry MX blue keyboard is equipped with anti-ghosting technology to keep up with all of your gaming demands. So if you're looking for a high-quality keyboard that will let you take your game to the next level, look no further than the Roccat Ryoscherry MX blue keyboard.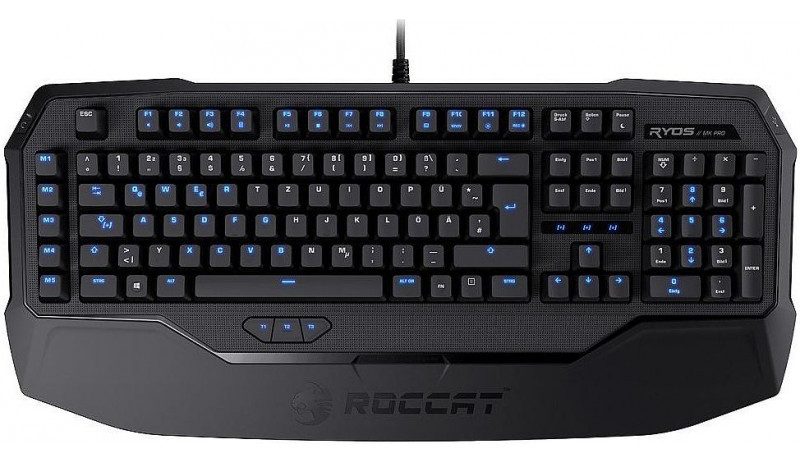 5. Redragon K580 VATA 
You will find 5 easily programmable macro keys in this Cherry MX blue keyboard. You don't have to install any software to access the macros. Moreover, it has multimedia control keys and a convenient wheel on the top right. 
Overall, it is a stylish, convenient, and easily adjustable keyboard with a total of 104 keys. You can record macros on the go without installing any software. All the options are easy to adjust, and the design will meet the expectations of the most demanding users. The keys on the keyboard are all floating, which allows for ultra-fast response and a great clicky sound with OUTEMU blue switches.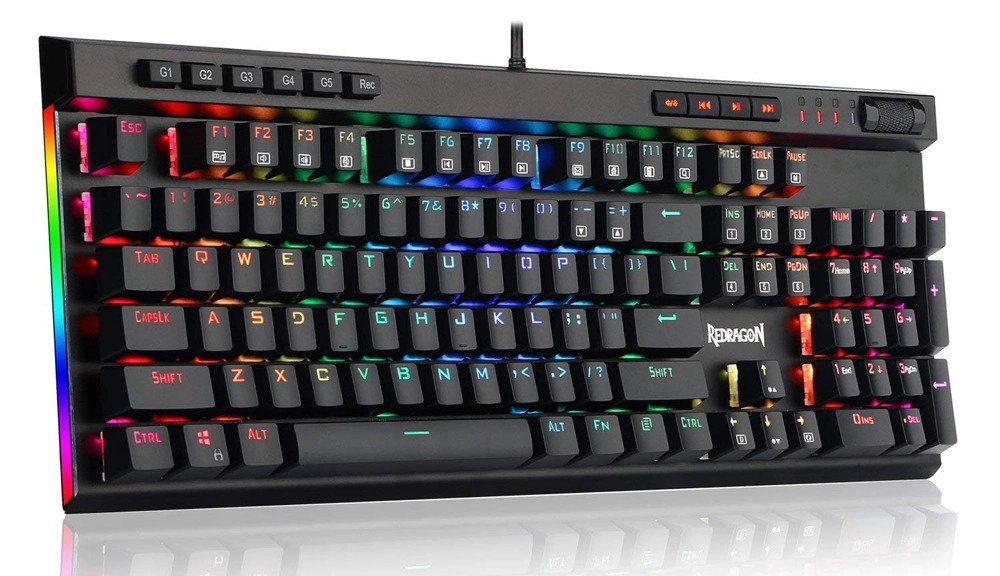 Conclusion
We hope that this list has offered you guidance on our favorite Cherry MX blue keyboards. We tried to see every option from different aspects, like price, features, and size, to suggest the best options available. However, this list is not comprehensive and through some more research, you can find other good options as well. 
But be careful that while it may be providing you with a great typing experience, the noise it creates might be disturbing for others, and not really suitable for shared spaces!
If you are fan of 65 Hot Swappable Keyboards don't forget to checkout our article.