If you are tired of basic keyboards with no exciting features then look no further, Cooler Master gaming keyboards have got you all covered. Not only do they perform well but their RGB illumination will be the cherry on top of your gaming setup.
Here is a list of the seven best Cooler Master gaming keyboards. Read ahead to find the perfect one for you.
1. Cooler Master CK550 V2 Gaming Mechanical Keyboard
Sleek aluminium design
RGB backlighting
On the fly controls
Mechanical switches
Wrist rest
Perfect for all of your gaming needs, the Cooler Master CK550 gaming keyboard is easy to use and has a high performance. Additionally, it has RGB backlighting paired with an aluminium base giving it a trendy yet sleek feel. This keyboard offers a user-friendly, error-free performance and a minimalistic design to make your gaming experience worthwhile.
Price Range
The cooler Master CK550 V2 gaming keyboard's price range is reasonable and affordable. Many of its competitors with the same features are either too expensive or too cheap which makes this particular keyboard the best option among others. Simply put, it has all the necessary features at the perfect price.
Specifications and Features
This keyboard's metallic aluminium base and floating keys can fit in with any gaming setup. Paired with the metallic feel is a brushstroke pattern giving it a minimalistic, sleek, and gleaming finish.
The RGB backlight on the keys illuminates any room with color. The neutral grey brushed aluminium design helps the RGB backlight to shine in all its glory. Moreover, the RGB backlight has a whopping range of 16.7 million colors.
On-the-fly controls give you full control to customize your functions. This is perfect for any gamer looking for a user-friendly experience. You can have your gaming preferences which will help you win any game you want with ease.
Moreover, this keyboard has mechanical switches with a threshold of 50 million key presses for every single key. Also, it has ABS keycaps that are well illuminated by the RGB backlight so you can press the right combo to get the perfect score every time.
Along with the keyboard comes a wrist rest that offers you a comfortable gaming experience for extended periods.
However, with its great performance comes a slight inconvenience which is finding your customized lighting profile since it has no software but then again, no software means no extra load on the computer and full control for gamers.
Overall, it is a smooth-running, customizable, and good-looking gaming keyboard in a reasonable price range for gamers.
Pros
Minimalistic design
Affordable price
50 million keystrokes
Full customization control
Cons
Difficulty in finding the customized layout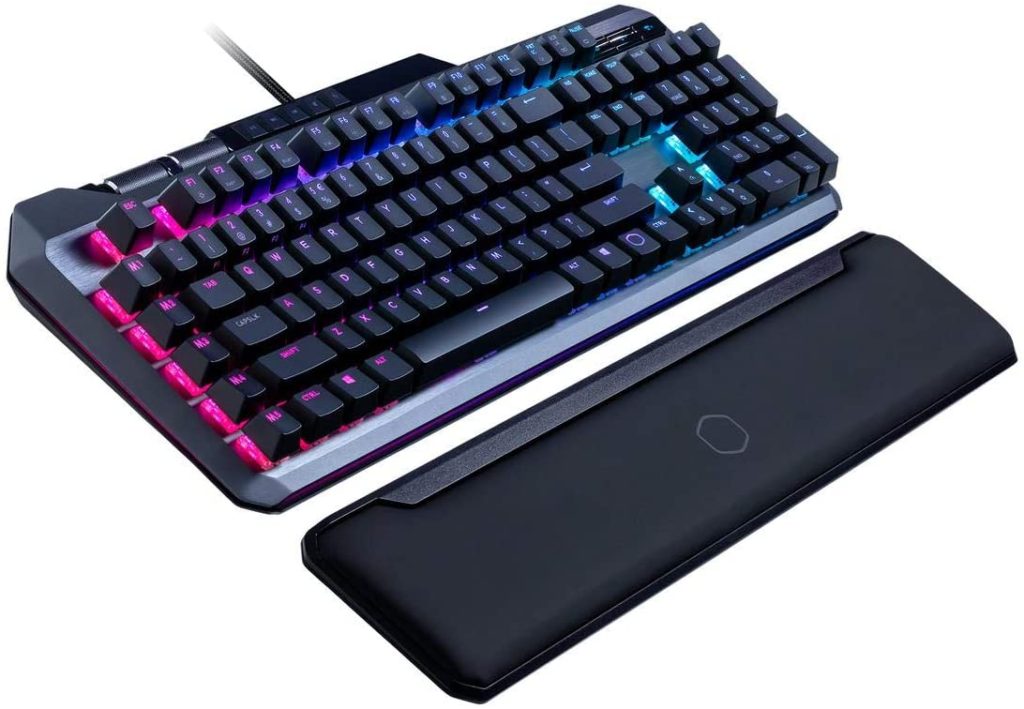 2. Cooler Master MK850 Gaming Mechanical Keyboard with Cherry MX Switches
Aim pad technology
RGB LED backlight
On- the – fly controls
Metallic aluminium design
Cherry MX switches
Software updates
Media keys and precision wheels
With its unique aim pad technology, on-the-fly controls for complete customization, and beautiful chrome finish. The Cooler Master MK850 gaming mechanical keyboard is a decent option for all the PC and console gamers out there.
Price Range
It is slightly on the pricier side. However, considering the variety of features makes the price reasonable. This keyboard is perfect if you are looking to upgrade your gaming setup. The features are definitely worth the price of the keyboard.
Specifications and Features
Cooler Master's MK850 is one of a kind because of its distinctive aim pad technology. The aim pad keys function as a joystick on a controller. As a result, it gives gamers full command of the gaming controls.
Secondly, this keyboard has floating keys with an RGB LED backlight that adds a spark to the aluminium design of the keyboard. It is perfect for gamers looking for a pop of colour to highlight their gaming achievements. Additionally, the aluminium frame also has LED bars on the side that further make the keyboard aesthetically appealing.
On-the-fly controls provide complete control to customize lighting profiles. Plus, it has no software which is even better since it takes no space on the computer. However, Cooler Master's software can be downloaded making customization easier.
Its Cherry MX switches have a life cycle of 50 million presses. As a result, it is ideal for gamers because of its durability and longevity.
Lastly, it has precision wheels for adjusting brightness and volume. It comes with media keys on the top of the keyboard, padded wrist rest, and extendable rubberized legs that help to keep the balance of the keyboard throughout your gameplay.
However, one negative is that the colour bars on the keyboard get hidden because of the wrist rest, and also the whole keyboard, in general, is a bit heavy and bulky.
Overall, a great keyboard with a few cons that are easily forgotten considering the numerous features it has. It is an ideal option for gamers looking for full control.
Pros
Aim pad technology
On the fly controls
Precision wheels
Wrist rest
Cons
The heavy and bulky keyboard frame

3. Cooler Master SK622 Wireless 60% Mechanical Keyboard
Portable
Hybrid wireless
Low profile switches
Ergonomic design
Multiple OS support
Perfect for gaming anywhere and everywhere, this keyboard's portability and compact yet stylish design makes it convenient for not only gamers but writers as well. Its long list combined with comfort makes it a decent choice for any type of keyboard user.
Price Range
This gaming keyboard is on the pricier side but it has a lot to offer. Plus, it is unique with its comfortable design and portability, something that is not often seen in gaming keyboards. It is a value for money scenario with this particular keyboard
Specifications and Features
This keyboard is small and compact making it ideal for traveling. It is easy to carry and light. As a result, it can be used anywhere with no difficulty.
Paired with its compact design is its wireless connectivity. It offers both Bluetooth and cable connection and the best part it can be connected with up to four devices at one time.
Furthermore, its gunmetal design coupled with a diffused RGB light makes it sleek and minimalistic which adds to its simplicity. To top it off it has a low profile, durable switches which make the gaming experience smooth and pleasant.
Moreover, the specialty of this keyboard is the ergonomic design, curved floating keycaps with a threshold of 50 million presses offer gamers high-quality performance and visuals.
It is compatible with android, windows, iOS, etc. However, one con due to this is that each key has multiple functions and looks cluttered on a small compact keyboard. Nonetheless, it has some amazing features that outweigh a slight con mentioned above.
Pros
Ergonomic design
Bluetooth connectivity
Compact
Cons
Too many functions on each key

4. Cooler Master MS110 Combo Bundle with Mem-chanical
Optical sensor
Ergonomic shape
RGB light
Mem-chanical switches
Onboard control
The dynamic duo with mem – chanical switches makes this combo unique. For all gaming fanatics, it is one of the best options as it gives the most realistic gaming experience with its optical sensor technology. Simply put, looks great and performs even greater. Plus, its lighting modes will surely add a flair of fun to your gaming setup.
Price range
The price for this couple is very affordable. Keeping in mind the features of this duo, it is not only a great option for gamers but also comparatively economical. In simple words. It is a bang for one's buck.
Specifications and Features
The feature that makes this dynamic duo special is the optical sensor with four DPI levels (sensitivity level) which can be adjusted to your specific gaming needs.
Also, its ergonomic shape and comfort help in playing for extended periods. Paired with that are the RGB lighting on the keyboard and the mouse. The best part is that it comes with six and three illumination modes for the keyboard and the mouse respectively. As a result, it helps in highlighting your perfect score with trance-like illuminations every time.
Furthermore, mem – chanical switches give the feel of mechanical key switches together with floating keycaps give the keyboard an unmatched aesthetic.
On-board control is one of the key features giving the user total control to customize setting right from the board without the need for heavy software.
Lastly, a minor inconvenience of this fantastic duo is that the lighting profile resets every time the keyboard restarts. It can be a tedious task to customize it again however, other features make up for this slight problem.
Pros
Ergonomic design
Optical sensor with four settings
On the board control
Cons
Customizations reset frequently

5. Cooler Master Keys Pro L RGB Mechanical Gaming Keyboard
Anti-ghosting technology
On the fly controls
Advanced processor
Cherry MX switches in blue
RGB backlight
For all the pro gamers out there, Cooler Master Keys Pro L RGB is the perfect option for you. It is a simple, sleek-looking keyboard that focuses more on high-quality performance rather than the look. Also, its advanced processor makes sure that the keyboard runs smoothly. The minimalistic design and amazing performance are what this gaming keyboard offers.
Price Range
What makes this particular keyboard an excellent option is its economical price range. It is made for pro gamers yet its price is nominal considering the various features it offers. It is a great gaming keyboard and is giving competitors a hard time coming up with a pro gaming keyboard in this price range.
Specifications and Features
The Cooler Master Keys Pro gaming keyboard's distinctive feature is its anti-ghosting technology. Simply put, it processes multiple key commands simultaneously. As a result, it gives you a swift command of any fast actions required when playing the game.
Also, its fast and advanced cortex processor is what causes this keyboard to have a unique, lag-free anti-ghosting technology
Also, the cherry MX switches in blue paired with the on-the-fly controls lets you customize from the board. As a result, you will not need heavy software on your computer. Plus, an RGB backlight with 16 million-plus colours and full customization control can help you in choosing your desired lighting profile.
However, if you are looking for something silent then this keyboard will not be of your liking. The click-style keys are solid and durable and they do create sound. Overall, it is a high-performing, simple-looking, and straightforward gaming keyboard at a very reasonable price. It is a value for money. It is durable and well-made. It is a perfect example of quality over quantity.
Pros
Customizable
Anti-ghosting technology
Lag-free processor
Cons
Creates sound when clicking
Related: Hot Swappable Mechanical Keyboards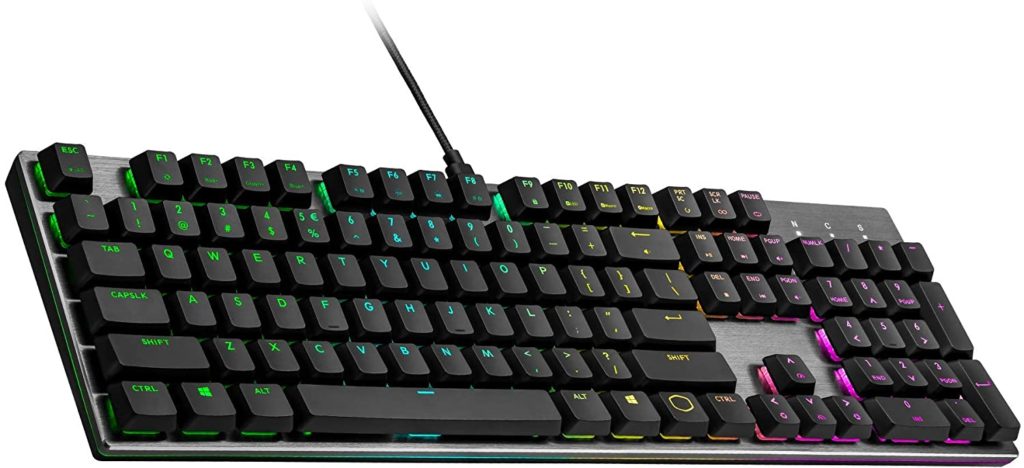 6. Cooler Master Sk-650-Gklr1-US SK650 Mechanical Keyboard
Software customization
Low profile key switches
RGB backlight
Metallic keyboard frame
Cooler Master Sk-650-Gklr1-US combines a beautiful metallic base with rainbow glowing backlight with complete customization control and smooth switches to give all gaming geeks the best of both worlds. It is durable, solid, and well-balanced making it one of the best on the list.
Price Range
This mechanical gaming keyboard is a bit on the pricier side however, it has great performance and numerous features. Competitors are offering cheaper alternatives but they do lack either in performance or in design. Therefore, this keyboard is worth the money.
Specifications and Features
You can customize lighting profiles and controls straight from the board with its on-the-fly control. It does not have software however you can install the cooler master software. It is completely up to you however; the software does help with detailed controls.
Along with complete customization control, low-profile cherry MX switches are smooth, durable, and precise. Plus, the best part you do not have to hardly press any key to activate it, it is all very smooth, adjustable, and lag-free.
Also, the RGB backlight and bars on the keyboard matched with a beautiful glossy brushed aluminium frame not only look magnificent but illuminates your room with a concoction of colours. It also comes with 17 lighting pre-sets.
One con however is the tactile free keys which make pressing the right key during gaming difficult, but that is where your lighting setup can help.
Pros
Completely customizable
Low profile key switches
Cons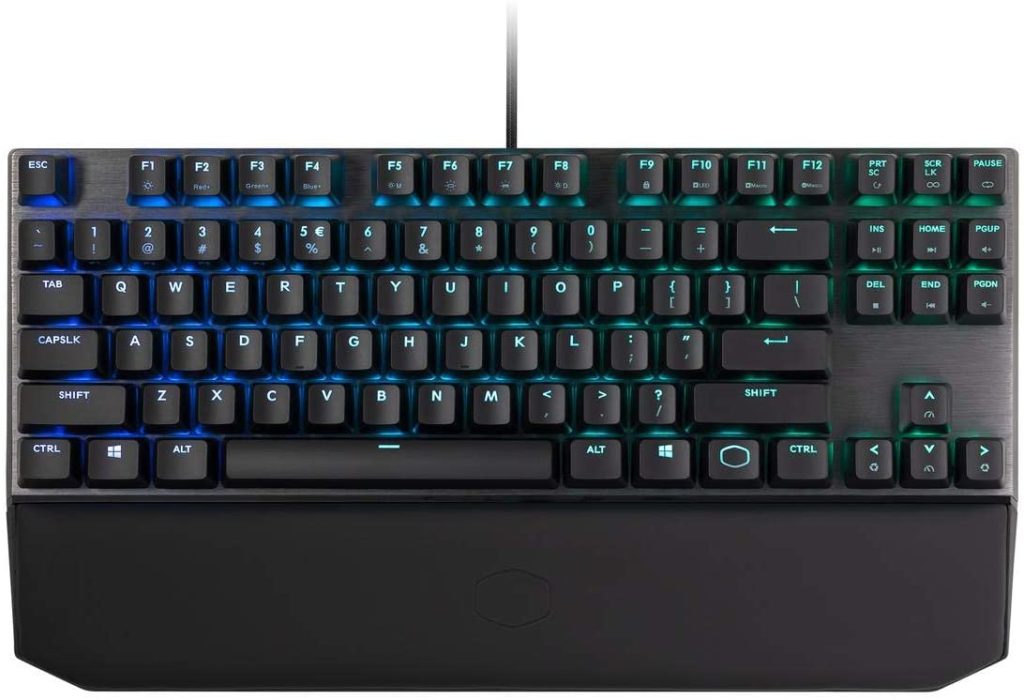 7. Cooler Master MK730 Tenkeyless Gaming Mechanical Keyboard
6 key and N key rollover
Cherry MX RGB Switches
On the fly controls
Magnetic wrist rest
RGB backlight
Compact design, high performance, and comfort are combined to give you the Cooler Master MK730 Tenkeyless gaming mechanical keyboard. It does not have a number pad because of which it is user-friendly and hassle-free. Furthermore, its wrist rest is not only soft and comfortable but also detachable making this one of the best choices for gamers.
Price Range
The particular keyboard is moderately priced for what it offers. Also, competitors are offering keyboards with similar features at a cheaper price. However, this gaming keyboard's quality is far superior and it comes with a wrist rest as well which then makes the pricing reasonable.
Specification and Features
 All the best features combined into one is what this keyboard offers. 6 key and N key rollover register all commands simultaneously without any lag. Therefore, no matter how fast you press the keys, it will always process without any delay.
Cherry MX RGB switches provide the best of all worlds, with a lifecycle of 50 million keystrokes and linear, tactile, and click style switches. It is a must-have feature for gaming.
On-the-fly controls for complete customization right from the board. No heavy, bloated software is needed.
Magnetic wrist rest for comfort plus it is removable. Additionally, the RGB backlight and bars on a smooth aluminium surface make this keyboard one of a kind. Also, it is tenkeyless making it compact.
However, one con is that it is a bit too loud, if you do not have any problems with that then this is the best a gamer can have.
Pros
Removable wrist rest
Cherry MX switches in RGB
N key rollover
Cons
To conclude, each Cooler Master keyboard has features that will fit in with any gaming setup. The main highlight of all the keyboards is that they do not require heavy, hard-to-navigate software. As a result, they are easy to adjust as per your preferences. Though they have a few drawbacks but they are easily overweighed by a large number of amazing features. They are all decent choices guaranteed to satisfy your game cravings.
Frequently Asked Questions